Valentine's Day Dinner Idea: 3-Course Menu at Rocky Mountain Flatbread Paired with Koko Monk Chocolates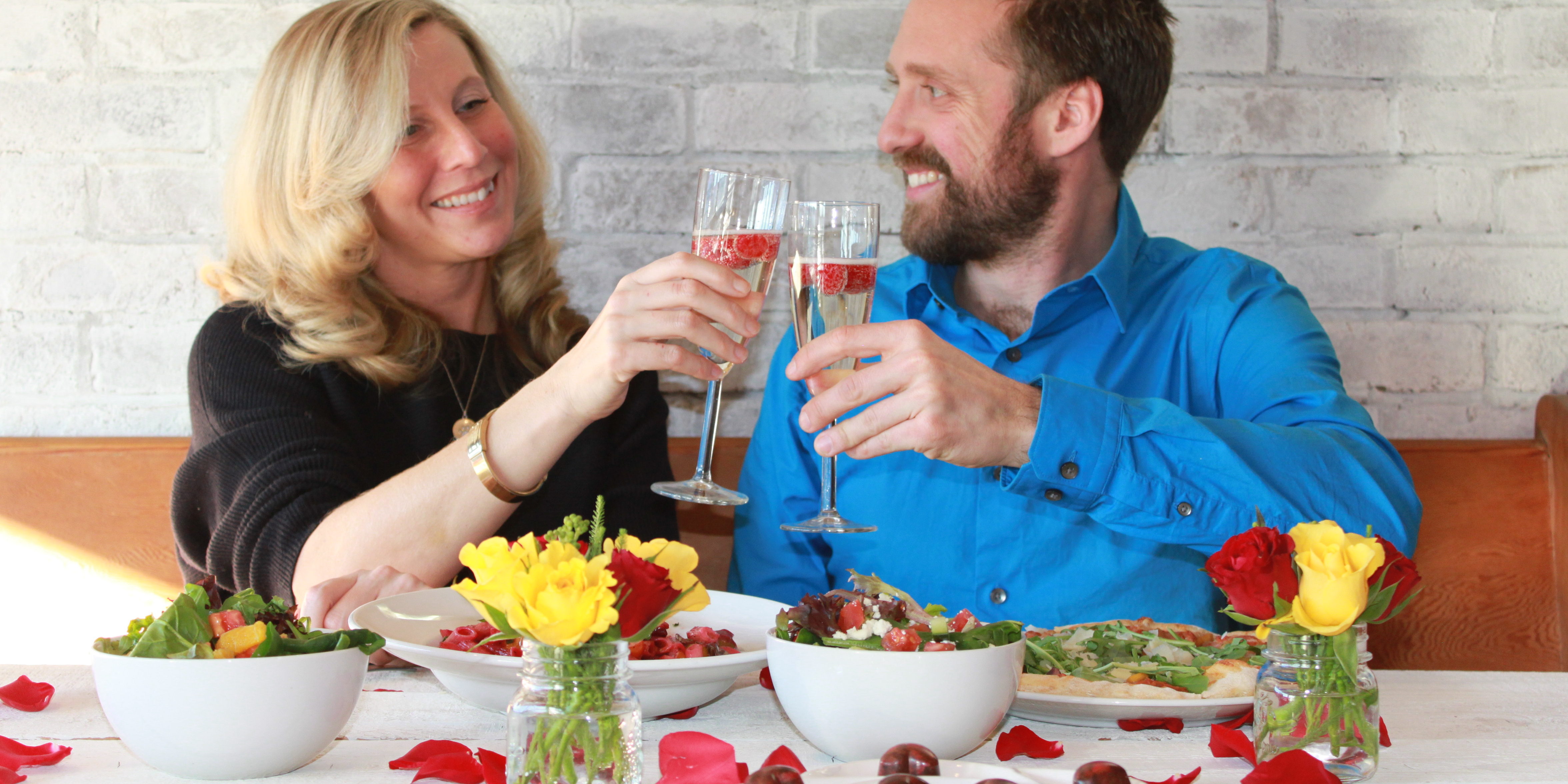 Follow your bliss to Rocky Mountain Flatbread on Valentine's Day! Chef Oliver Zulauf has created a delicious three-course Valentine's Day menu with over 75 pizza and pasta combinations to choose from.
Each course offers a vegan/gluten free option and is paired with a handmade local raw chocolate from Koko Monk Chocolates. The three-course menu is offered for $30 per person plus tax and gratuity. 
Starters:
Dinner starts with a Bliss Fix – passionfruit raw chocolate – paired with your choice of fresh local salad (fig & goat cheese, basil & blackberry, or fresh herb salad), BC mushroom caps, or house-made soup.
Mains:
Romance your taste buds with Diablo Del Amar – a mango tequila raw chocolate with chili – while enjoying any handcrafted Traditional Flatbread pizza or featured organic pasta with local seasonal veggies.
Desserts:
Dessert's a Flirt – salted caramel raw chocolate with almond, cashew and organic red rose petals – along with Rocky Mountain Flatbread's signature double chocolate brownie or apple cinnamon crumble (vegan) with house-made ice cream.
Valentine's Day Dinner with Kids:
Every day at Rocky Mountain Flatbread is a family-friendly day. Rocky's Valentine's Day Kids Menu features a three-course menu for $12.50 so the whole family can enjoy a fun evening out.
Rocky Mountain Flatbread's Valentine's Day Menu is available at the Main Street and Kitsilano locations in Vancouver. Reserve your spot before this popular dinner sells out!
To Reserve:
Rocky Mountain Flatbread Main Street: 604-566-9779 or info@rockymountainflatbread.ca
Rocky Mountain Flatbread Kitsilano: 604-730-0321 or info@rockymountainflatbread.ca
Did you know?
The authentic, raw version of chocolate is nothing to do with its candy version counterparts which are well known for the artery-clogging and fat generating effects on our bodies. In fact, raw chocolate has any number of health benefits.
About Rocky Mountain Flatbread
Rocky Mountain Flatbread takes pride in providing sustainably produced, local food that connects the farm, family and community. Visit our two Rocky Mountain Flatbread restaurant locations in Vancouver (Main Street & Kitsilano) or the original restaurant that started it all in Canmore, Alberta. Food court locations include Rocky Mountain Flatbread Express in Banff and Rocky Mountain Flatbread Food Court in West Vancouver. For more information, visit rockymountainflatbread.ca.
About Koko Monk
Koko Monk is known for its one of a kind, complex and sophisticated flavor fusions using raw chocolate. The company uses organic and health-based ingredients without damaging and reducing their essence as one of the most important signifiers of their identity. Visit the Vancouver store in Kitsilano. For more information, visit www.kokomonk.com.
Related Events