Vancouver is one of the first of the cities that introduces sushi to North America, and definitely one of the hottest spots for top-quality raw fish. But many skilled sushi chefs will extend their passion for sushi making to seafood rice bowls, featuring the freshest and carefully selected slices of fish and seafood. Each bowl often comes with such a visually stunning presentation.
For seafood rice bowl, you might have heard of the terms of kaisendon and chirashi don. Let's say, those 2 are quite similar, both consist of pieces of a variety of fish or seafood sashimi over a bed of rice. But with a longer history, chirashi is more formal and started as a ceremonial meal served in for special occasions. Kaisendon is said to be created inspired by chirashi and served more casually. Also, a major difference is that rice in chirashi is vinegared, just like sushi rice. But in the modern days, kaisen don has become the popular food trend, and also can be served with formal settings and prepared elaborately with the best premium ingredients and flavoured rice.
Here are the 8 Japanese rice bowls that I highly recommend if you decide to give yourself a deluxe treat!
Sashimiya
1348 Hornby St, Vancouver, BC V6Z 1W5
(604) 689-0088 or sashimiya.ca or
order through: ubereats.com
Owned and operated by Chef Taka Omi and his wife, Sashimiya is a grab-and-go sushi & sashimi shop with a regular menu featuring sushi, sashimi, nigiri, chirashi, party platters and bentos. It is also a grocery store filled with premium fish and an assortment of Japanese goodies. Chef Taka was a sushi chef at Fairmont Pacific Rim's Lobby Lounge RawBar.
Chirashi Premium (XL)
$23.95
The deluxe rice bowl is topped with assorted premium sashimi and it is one of the most affordable ones in the lot.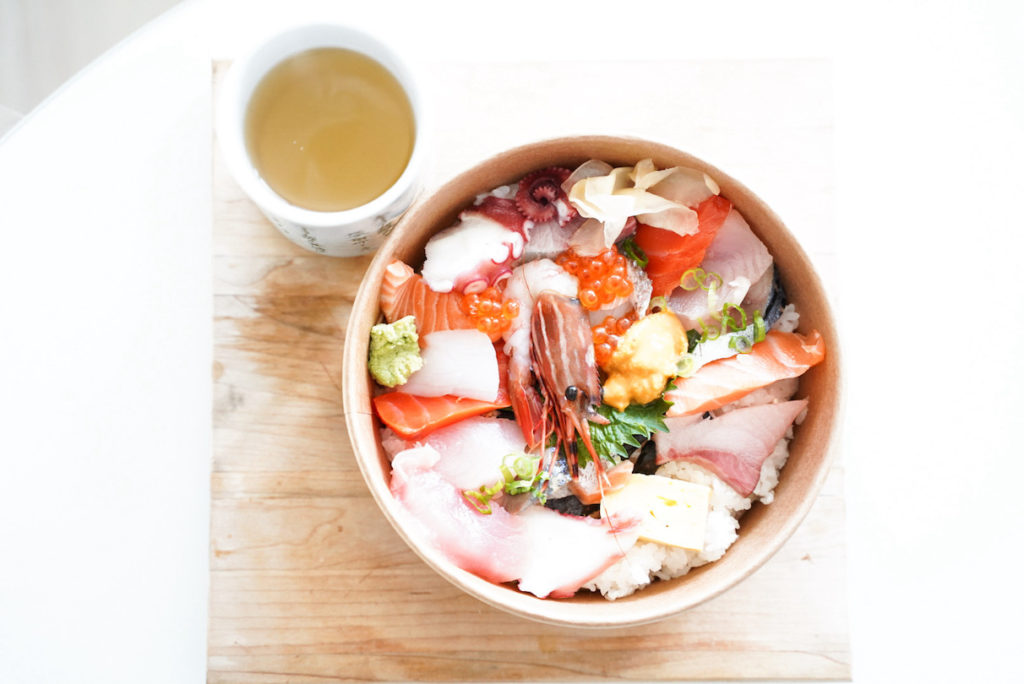 Tip – in the same price range, the Nigiri Premium ($29.95) includes 8 pieces of nigiri and one roll, showcasing the freshest from the fish market.
Maeda Kanazawa
3763 W 10th Ave, Vancouver, BC V6R 2G7
(604) 558-1679 or
order through doordash.com, skipthedishes.com, ubereats.com
This specialty kitchen for Japanese seafood and sashimi is run by @rajio_japanese_public_house, a popular Japanese izakaya spot on the west side. The preparation style is inspired by Kanazawa, renowned for its impeccable geisha and samurai districts, the iconic Kenrokuen stroll garden, and its wonderful cuisine – including some of Japan's highest-quality seafood.

Deluxe Seafood Bowl
$35.00
The bowl comes with 11 kinds of fresh seafood sashimi, served on top of premium koshihikari seasoning sushi rice with seaweed paste, chopped ginger, bean curd, and sesame – just how they serve at a fisherman's wharf in Kanazawa.
Tip – if you are a big uni and snow crab fan, you can go for their Hokkaido Bowl to have a taste of Japan's north country island.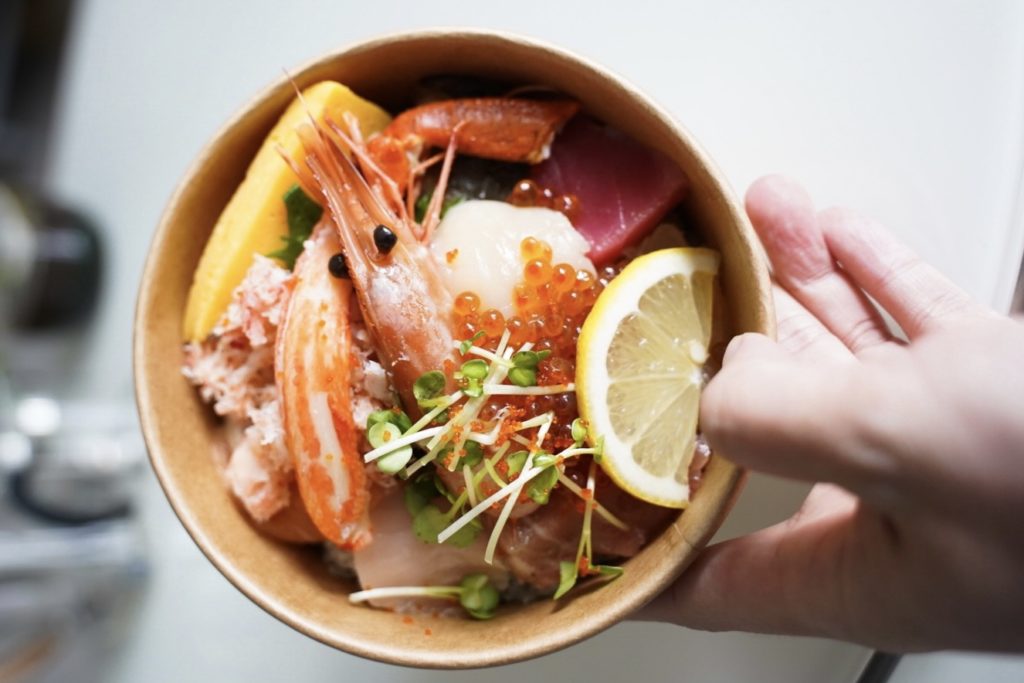 Takenada
1370A E Georgia St, Vancouver, BC V5L 2A8
(604) 802-9982, takenakavancouver.com
order through ubereats.com, doordash.com, ordereze.net
First established as a Ghost kitchen, Takenaka is probably the pioneer of its kind to introduce authentic Japanese bento box on the go, focusing high quality ingredients, especially sushi grade seafood, local or imported.
The owner/chef Shogo Takenaka has been showcasing his culinary talent for the last 15 years in Vancouver's award-winning restaurant Kingyo and its sister restaurant Raisu. Sous-chef Daiki Ishikawa trained in Niigata prefecture, known for its finest quality in rice, sake and seafood.
Large Deluxe Seafood Bowl
$36
Multilayered sashimi rice bowl with julienned egg omelet, Japanese cucumbers in between rows of original sushi rice. If they run out of sea urchin(uni), they put in extra pieces of spot prawn instead.
Tips – you can also oversize the same bowl and ask for the Family Size Deluxe Seafood Bowl for $91 which can feed 4 people; as RAISU is also run by chef Takenaka and offers very similar seafood rice bowls!
Miku
200 Granville St #70, Vancouver, BC V6C 1S4
(604) 568-3900, mikurestaurant.com or
order through: exploretock.com, ubereats.com
Deluxe Kaisen Donburi
$40
This deluxe feature is for take-out only. Highlighting negitoro, and akami, as well as a selection of chef's daily sashimi features, this Kaisendon is not served in a bowl but presented in a nice paper box and beautiful culinary aesthetic.
Tip – also look for Miku's seasonal offerings such as the Sakura set or the Mother's Day special, all prepared with beautiful presentation, Kaiseki style!
Tetsu Sushi Bar
775 Denman St, Vancouver, BC V6G 2L6
(604) 428-5775, tetsusushibar.com, or
order through: doordash.com, ubereats.com
The award-winning sushi bar in the West End offers the finest sushi experience and you can get a glimpse through their seafood rice bowl selections.
King Salmon & Ikura Don
$39
This take-out only rice bowl features sliced king salmon and ikura (salmon roe) on sushi rice, perfect for any salmon lovers.
Tip – a more affordable chirashi don is also available for only $24.
Tom Sushi
1175 Davie St, Vancouver, BC V6E 1N2
(604) 336-0855, tomsushi.ca, or
order through ubereats.com, skipthedishes.com
The sushi bar is known for Chef Tom's approach to highlighting the freshest and finest ingredients sourced from around the world and present traditional Japanese flavours with a west coast twist.
Uni & Ikura Don
$38
This is a seasonal item but if you spot it on the menu, grab it immediately! The sweet creaminess of fresh uni sings so well with the popping of little roe of omega3 deliciousness.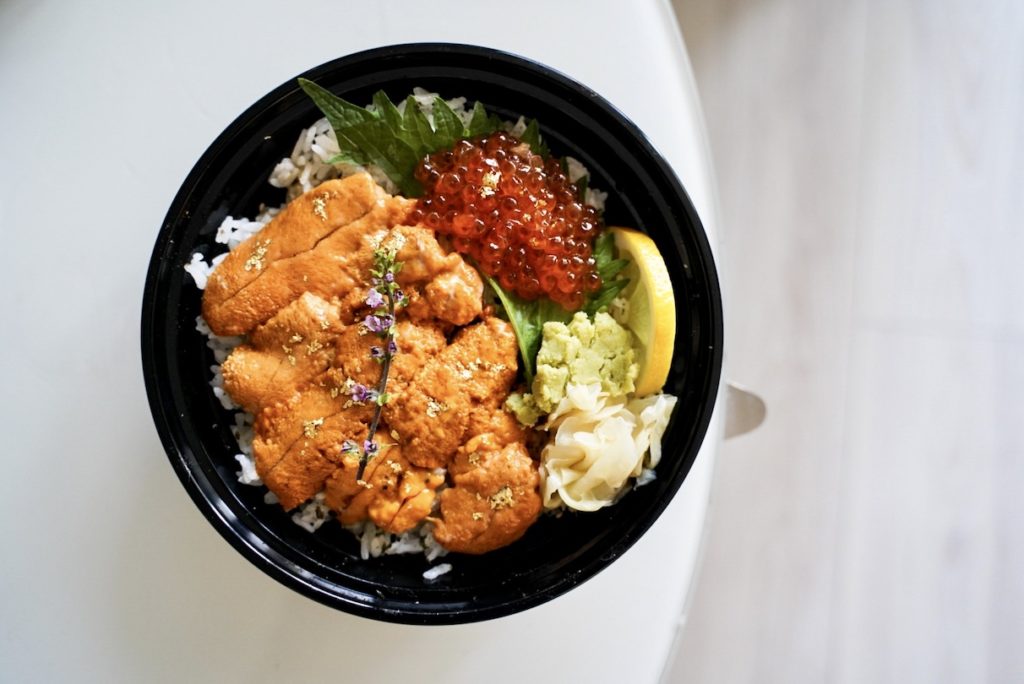 Moltan Roll Bar + Sake
1941 Cornwall Ave, Vancouver, BC V6J 1C8
(604) 423-5677, moltanrollbar.com, or
order through doordash.com
Only steps from the popular Kitsilano Beach, Moltan describes itself as a "fusion izakaya," and offers many popular categories of Japanese cuisine, including high-quality sushi and an impressive line-up of kaisendon featuring fresh seafood such as different cuts and preparation of bluefin, and local sea urchin.
Bluefin & Uni Don
$39.00
The lean cut of red tuna meets the lusciousness of local sea urchin – this combination makes this bowl of ocean goodness quite palatable.
Tip – the restaurant was super popular on the weekends for dine-in before the health restriction hit. So this is a good chance to try their food via takeout and avoid the line.
Hello Nori
1165 Robson St, Vancouver, BC V6E 1B5
(604) 564-9595 , hellonori.com, or
order through: doordash.com, skipthedishes.com, ubereats.com
This newly opened restaurant is making hand rolls the star dishes with the importance of the crispiness of the nori, in combination with warm seasoned rice and fresh high-quality seafood.
Blue Fin Maguro Chirashi Don
$25
Although their most known ingredient is missing, the Blue Fin Maguro Chirashi Don is made in the traditional ceremonial way of chirashi. Expect fresh uni, ikura, and sweet egg also come with the chopped-fresh tuna layer of deliciousness