It's pronounced "Pee-Jo" – if you're not familiar with the name:
Pigot's Burger Club serves up delicious American-style cheeseburgers that were perfected during Mike Pigot's brief hiatus from Calgary's culinary scene.
Chef Pigot has claimed the title of Best Chef in Calgary (2020) by Best of Calgary, and a television debut on Guy's Grocery Games on Food Network – in which he took home the top prize as the winning chef.
This past February, Chef Pigot launched Pigot's Burger Club as a pop-up concept in Calgary in a commercial kitchen space borrowed from one of his buddies.
"On the first day we sold over 500 burgers and sold out by dinner time," says, Mike Pigot. "The next day we thought we were ready for it and sold out again with over 750 burgers out the door."
In mid-April, Chef Pigot launched the pop-up in Toronto in collaboration with local-celeb-status chef, and Guy's Grocery Games alumni, Jerome Robinson, aka: The Heartbreak Chef. The opening was celebrated with fanfare and delight and was an instant hit.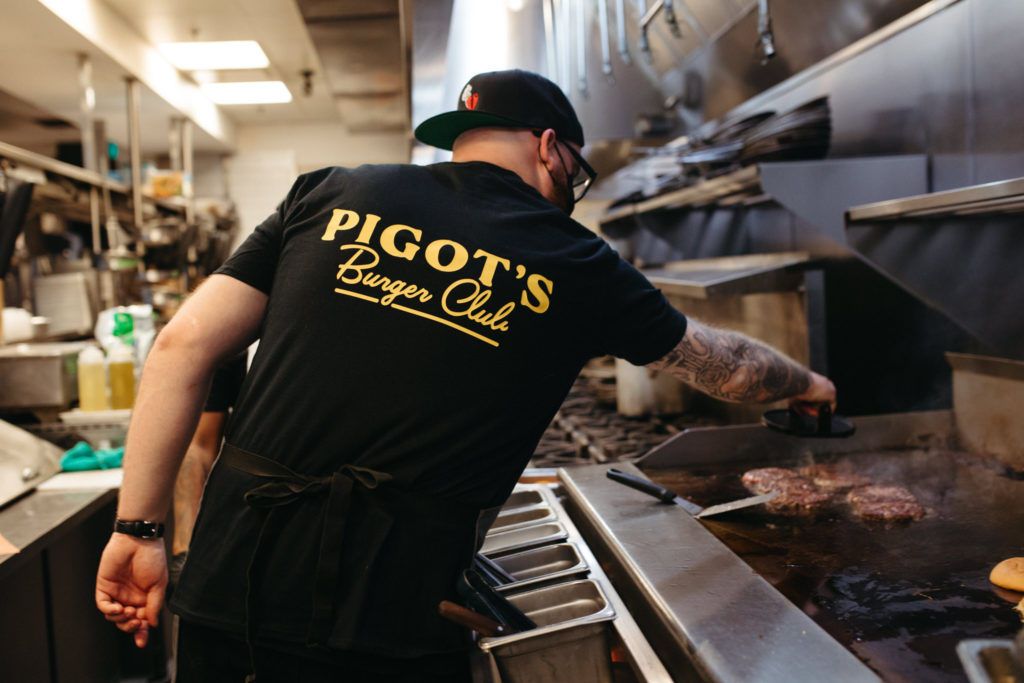 This week, Chef Pigot announced that he will launch his namesake burger club in Vancouver in collaboration with local culinary hero, Chef Alex Chen, Executive Chef – Signature Restaurants and Iron Chef Canada winner—among many other accolades. The collab will include a unique burger creation by Chef Chen that will be available only on the club's Vancouver menu.
The menu at Pigot's Burger Club is short and savory. The mainstays are the single, double or triple American-style cheeseburger complete with brown sugar onions, Pigot's super-secret sauce, a curated American cheddar cheese, and a custom ground beef patty from Beretta Farms all served between a soft and delicious potato roll.
"The burger is a culmination of my travels to the US and my love for a classic American cheeseburger," says, Pigot. "I played around with recipe for months, if not years, to get the right balance of flavours."
Served up with delicious beer-salt fries or an order of Dirty Tots smothered in cheese sauce, brown sugar onions, and tomato and jalapeños, the namesake concept is a staple on the cheat-meal scene in Calgary and Toronto.
Pigot's Burger Club is set to open on Wednesday, May 6, 2021 and will be available for delivery through UberEats, DoorDash and Skip the Dishes, or pick-up from a borrowed storefront on Beach Avenue in Vancouver's West End. Pick-up orders can be made through the website at pigotsburgerclub.com.