B.C.'s Premiere Craft Brewers Conference returns February 3 – 5, 2021
The BC Craft Brewers Conference, hosted by the BC Craft Brewers Guild and presented by Great Little Box Company | Ideon Packaging, brings together key stakeholders from the Canadian craft brewing industry for an annual networking and educational event.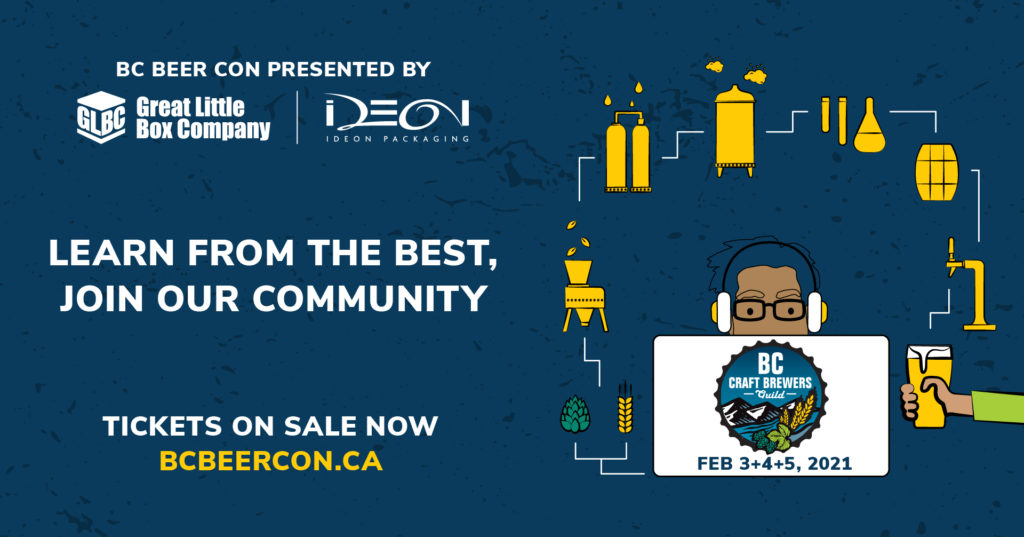 From February 3 to 5, brewery staff, brewing students, and beer enthusiasts are invited to take part in various educational seminars and keynotes to gear up for 2021. The three days are divided into half-day tracks, broken out into Brewing, Marketing & Sales, Operations, and Finance. Keynote speakers for BC Beer Con include:
Brewing up a real change - a discussion about diversity, inclusion, and equality with Ren Navarro of Beer. Diversity.
The Path Forward for the Hospitality Industry from COVID-19 with Ian Tostenson, President and CEO of the BC Restaurant and Foodservices Association
In response to current public health advisories, the BC Craft Brewers Guild has developed a conference focused on enriched virtual experiences promising to keep BC's craft beer community connected during the conference and throughout the year.
Attendees will receive educational seminars and networking sessions centered around activating a new online private community network. The BC Craft Brewers Guild Community is a private network for attendees to form new connections directly with industry peers, suppliers, and various partners, to gain insight into key industry issues and solutions, year-round.
Tickets to BC Beer Con are now available here, with 50 percent of every ticket sold supporting the Canadian Craft Brewers Association to create a more inclusive and diverse beer community.
BC Craft Brewers Guild member breweries and Associate Members, Canadian Craft Brewers Association Members, and Brewing School Students can attend for $20 plus applicable taxes, and public or non-member tickets are available for $50 plus applicable taxes. 
For more information on BC Beer Con, please visit www.bccraftbrewersconference.com.