Here are the new Vancouver restaurants opened in September – November, 2018. If you have more new openings to share, please email info@foodiepulse.com.
Bake49 Japanese Cheesecake [Yaletown] has opened doors at 1066 Mainland Street, serving croquant choux, a crunchy, textured choux pastry filled with vanilla-bean custard creme; Japanese cheese tart, a double-baked tart shell filled with cream-cheese mousse; and double-fromage cheesecake. It will also serve organic soft-serve ice cream and cold brew by 49th Parallel. @bakefortynine [Straight]
Balila Hummus [Gastown] is named after Balila, a traditional Lebanese dish made of cumin and chickpeas. The 1,000 square foot eatery is located at 47 West Hastings Street, the former space of The Smallflower Cafe, serving 10 different kinds of hummus dips and "to-die-for" hummus wraps, as well as soups, salads, and full rice or burgol-based meals. @balilahummus [DailyHive]
Blaze Pizza [Downtown] has opened their first location in Metro Vancouver at 929 Granville Street. The LeBron James endorsed California-style chain is bringing their delicious and fresh artisanal pizzas. @blazepizza [604Now]
Blaze Pizza [Surrey] has opened their 2nd location in Metro Vancouver at #50 – 2433 161a St, Surrey. The LeBron James endorsed California-style chain is bringing their delicious and fresh artisanal pizzas. @blazepizza [604Now]
Buro Coffee [West End] has opened their 2nd location at 579 Robson Street. The popular cafe is known for their quality eats and coffee at their original location in the iconic Holland Block building in Gastown @buro_coffee [DailyHive]
Caffe La Tana [Commercial Drive] is located at 633 Commercial Drive, and is run by the same team behind Savio Volpe after their successful opening of Pepino's Spaghetti House in the summer . the Italian coffee shop, deli, and grocery also serves breakfast and lunch. @caffelatana [Straight]
Cantina Pana [Kitsilano] can be found at 1941 Cornwall Avenue, as the sister spot to its neighbour, Corduroy. Rebecca Matthews, owner of Corduroy and Co-founder of Corduroy Pie Company is working with local chef, Timothy Kingston to bring a West Coast style taco shop, offering a small 25 seater with an express window for easy pickup. @cantinapana [Good Life Vancouver]
Celsius [Sunset] is celebrating the new grand opening at 6350 Fraser Street, and offer buy-one-get-one-free promo on their Asian inspired specialty drinks, such as Teapresso Mousse Tea and Mix Fruit Tea
Chewie's Biscuit Co [Kitsilano] is Vancouver's first all-biscuit eatery at 2822 West 4th Avenue, the former location of Raviolino, offering biscuit sandwich made of chicken, fried egg, bacon, cheddar cheese, and sausage gravy, and 'Elvis' variety with peanut butter, bacon, and banana, and even a take on French toast and biscuits made with housemade sausage and drizzled with syrup. @chewiesbiscuits [DailyHive]
The Dark Manor Inn [Kensington] has opened doors to welcome chill seekers at 4298 Fraser Street. The 1,400-square-foot tavern is inspired by the Haunted Mansion ride at Disneyland, and guests should be prepared to see creepy framed photos, gargoyles, skulls, old hard-covered books, and even a coffin table. @darkmanorinn [Straight]
The Deck Kitchen & Bar [Richmond] is located at inside Pacific Gateway Hotel at 3500 Cessna Drive in Richmond, offering the 7,000 sqft deck that overlooks the Fraser River. Executive Chef Jason Leizert delivers a West Coast menu that offers fresh, organic, and local flavors. @DeckAtPGH
Eggspectation [Richmond] has opened their latest location at 10551 St Edwards Dr in Richmond. Since their first restaurant in downtown Montreal in 1993, they currently run eleven locations in Canada, seven in the U.S. , three in India, two in Qatar and two in Dubai. Staple breakfast and brunch dishes include chicken & waffles, breakfast poutine, bagel & lox, and all the eggs benedict variations. For Lunch and dinner, they offer sandwiches, salads, burgers, savoury crepes, pasta, and flatbreads.
Elephant Garden Creamery [Commerical Drive] has opened doors at 2080 Commercial Drive serving handcrafted ice cream. Owner and founder Betsy Ng first started selling her artisan products at local farmers markets. @elephantgardencreamery [Straight]
Elisa Steak [Yaletown] is located at 1109 Hamilton Street, taking over the space from the former Milestone. The 6,800 sqft steakhouse is the latest addition to Toptable Group's list of high end restaurants, such as CinCin,West, Thierry, Il Caminetto, Bar Oso, and Araxi, as well as Blue Water Cafe, where they are right opposite. The kitchen was helmed by Andrew Richardson, who was the star executive chef at Araxi and CinCin. @yaletownsteak
Francesco's Ristorante [Gastown] has reopened at 909 Cordova Street, the space of former Hapa Izakaya Coal Harbour, The new Don Francesco Restaurant is dedicated to the founder, Francesco Alongi, inductee to the British Columbia Restaurant Hall of Fame, who created the legendary fine-dining space on Burrard street. At the new location, the recipes from Sicily have been preserved, and many of Francesco's hand-picked and trained staff, particularly kitchen staff, have returned. @donfrancescoristorante
The Garden Strathcona [Strathcona] can be found at 868 East Hastings. The cafe seats no more than 25, serving coffee produced by Agro Coffee Roasters and in-house baked goods including cookies, cakes, pies, muffins, and cupcakes, and bread from Fife. Find charcuterie and cheese plates, various toasts and special salads on their food menu. Also find plants, flowers, housewares, ceramics, linens, and imported treats. Hopefully, soon enough they will have a liquor license to serve beer, wine, cider, and cocktails.@thegardenstrathcona [Scout]
Golden House Restaurant [West End] has opened doors at 1660 Robson Street, serving warm soups, crafted noodles, and other authentic Chinese dishes.
Horin Ramen & Sake [West End] is located at 1226 Robson Street with a sign boasting "52 years of exquisite tradition form Fukuoka, Japan," serving tonkotsu (pork bone soup based) ramen which is a specialty in Fukuoka. You will also find a list of Japanese sake ont their menu. @horinramen [DailyHive]
Jammer Cafe Motors [Fairview] can be found at 350 West 8th Avenue as a full-service restaurant, a coffee shop, a microbrewery tasting room, a retail area, and a motorcycle garage. The 5,400-sq-ft space is described as a "community workshop and live stage" for motorcycle enthusiasts. @JammerCafe [DailyHive]
Juice Truck Cafe [Riley Park] has opened a new location at 4236 Main Street, serving fresh cold-pressed juice and bottled juices, light and healthy breakfast and lunch to go. @JuiceTruck
Johnny Rockets [Fairview] has opened the 2nd location in Vancouver at 988 West Broadway. They known for their original hand-crafted burgers made with 100% fresh-never-frozen certified Angus Beef
thick-cut applewood smoked bacon, real Wisconsin cheddar cheese, cage-free chicken, and hand-spun shakes made with premium ice cream @johnnyrocketscan
Koko Monk Chocolates [Kitsilano] has opened its second location in Kitsilano at 2883 West Broadway (between Macdonald Street and Bayswater Street). The new 1,100-square-foot space can seats 16 in the hot chocolate lounge and runs an onsite production facility. The shop serves a variety of artisan chocolates, including raw-origin-bean bars, vegan bars, sugar-free options, and more. @mykokomonk [Straight]
Kourosh Bakery [North Vancouver] is lcoated at 1248 Lynn Valley Road, North Vancouver, delivering freshly baked pastries, cookies, cakes and pies. @kourosh_bakery
c –[Riley Park] has opened their latest location at 2450 Yukon Street with 60 seats. Expect counter-service in the daytime and full-service in the evenings, ]a heated and shaded patio and a large bar with 18 seats. @lataqueria [Scout]
Lift Production Bakery [North Vancouver] can be found at 700 Copping St, North Vancouver, providing homemade, crafted, quality baked goods with locally grown fresh ingredients and traditional recipes. @liftbreakfastbakery
Little Juke [West End] has opened doors at 1074 Davie Street, just after the second anniversary of the original Juke Fried Chicken in Chinatown. Featuring the same casual, laidback atmosphere and mouthwatering, Southern-inspired fare, Little Juke is fully licensed and offers counter-service space with seating for 22 as well as take-out or delivery. Juke's trademark gluten-free, non-GMO-grain-fed and free-range regular and spicy fried chicken is available in various drums-and-thighs sizes.They also offer new menu items including rotisserie chickens, Vietnamese-inspired nuoc cham ribs, and 'Big Boy' fried chicken sandwiches. @jukefriedchicken [Scout]
Lot 185 Cafe & Wine Bar [Coal Harbour] is located inside the double LEED Platinum-certified building of Vancouver Convention Centre, serving from coffee to tapas to freshly baked pastries to international wines. The cafe can seat 80 with its two floors, which includes a private dining room with direct views of Jack Poole Plaza. @lot185vancouver [Straight]
Mangia Cucina & Bar [Mount Pleasant] is the cozy new eatery, easily recognizable as the red house on the corner of Manitoba Street and 6th, serves up authentic pasta, pizza, tapas, and cocktails. Lunch, apertivo, dinner, and weekend brunch services are available. @mangia604 [DailyHive]
Nook [Olympic Village] has opened the latest location at 195 West 2nd, servingserved pizza, pasta and antipasto with choices of wines in a casual atmosphere. @nookrestaurant
Nicli Antica Pizzeria [North Vancouver]has opened the 2nd location at 3142 Highland Boulevard in Edgemont Village in North Vancouver. The 2,000-square-foot space accommodates up to 60 guests. The full-service pizzeria restaurant features timber elements and exposed ceilings. [Straight]
OneZo Tapioca [South Burnaby] can be found at 4929 Kingsway, Burnaby. Like the brand's other locations in Toronto, North York, Markham, and Waterloo, the new location offers milk teas, fruit teas, lattes, smoothies, etc, with the signature fresh tapioca. @onezotapioca [DailyHive]
Poquitos Cantina [Mount Pleasant] is the new pop-up restaurant at 630 Kingsway, serving Latin-inspired dishes and cocktails. Brunch, Happy Hour and dinner service are available. The restaurant is expected to remain open until March 2019 as the block will be demolished and redeveloped subsequently. @poquitoscantina [Foodgressing]
Pure Bread Bakery [Kitsilano] is the popular bakery that has just opened their latest location at 2887 West Broadway. They are known for their variety of bread, savouries, cakes & other treats. @purebread_canada
The Sauce Pasta Cafe — can be found at 861 Denman Street, and offers high end gourmet Italian pasta with reasonable prices. Takeout is welcomed and they are featured on Foodora and Skip the Dishes. @thesaucepastacafe [Foodology]
Seorae Korean BBQ [Richmond] is the highly anticipated Korean BBQ chain's first location in North America, at 115-5668 Hollybridge Way, Richmond. The popular South Korean chain now owns nearly 300 locations worldwide, including 220 in Korea. They're known for their galmaegisal (aka pork skirt meat) in a variety of flavours: original, spicy and garlic. Other popular menu items include: Seoul Bulgogi, Pork Ribs Gamjatang, Bibimbap and more. @seoraecanada [604Now]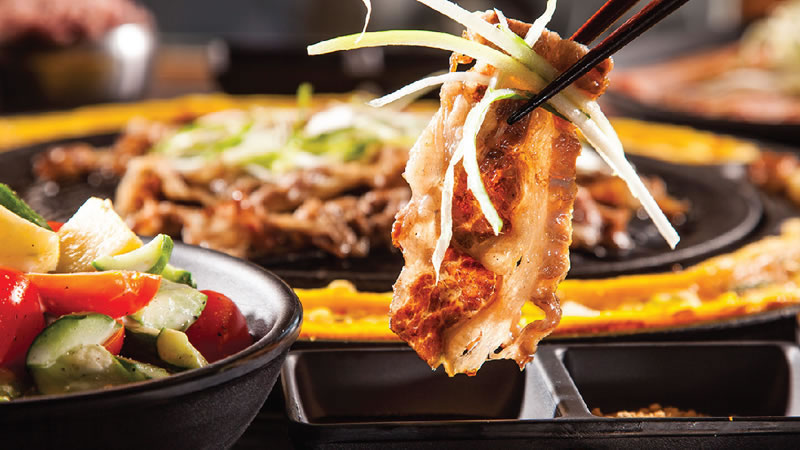 Scratch Kitchen [North Vancouver] has opened doors at 437 North Dollarton Hwy. The 1,200-sq-ft eatery has 40 seats with outer space. The menu includes handcrafted pizzas, local organic beef and veggie burgers on house-made brioche buns, charcuterie, hearty salads, and power bowls. A weekend brunch is available with freshly baked sourdough bread, six different kinds of toasts, and sourdough pancakes. @eatscratchkitcheny [DailyHive]
Small Victory Bread & Coffee –[South Granville] has opened the 2nd location at 3070 Granville Street, in the spot previously occupied by an American Apparel store. Check out the impressive collaboration work of different local talented designers, as well as the visually stunning baked goods, and a comprehensive coffee program, available during break and lunch time. @sv_bakery [Vancouver is Awesome]
SMK Smokery & Bar [Tsawwassen] is owned by the GoldWings Entertainment Group, the parent company for WINGS Restaurants & Pubs, and located in Tsawwassen Commons, specializing in slowly smoked meats such as ribs, tender briskets, pulled pork, chicken wings & much more – all slow cooked overnight by the Pit Masters in the one-of-a-kind smoking vats. Hand-crafted cocktails are also available@smkrestaurants
Sneeki Tiki Restaurant & Bar [Downtown] is located at 1100 Granville Street in the heart of the Entertainment District, serving Tiki cocktails and punch bowls, as well as creative bar fare. Come here for live music, classic or signature rum based cocktails, and the PuPu platter. Daily Happy Hour is 4-6 pm, offering selected drinks and appies on special. @sneeki.tiki [Vancouver is Awesome]
Sopra Sotto Pizzeria [North Burnaby] is the Italian eatery's new location at 4022 Hastings Ave, Burnaby, only a few months after their first establishment on Commercial Drive. Helmed by chef Enrico Fratoni, a native of Turin, Italy, the restaurant serves the locals in "farmer style," with fresh, seasonal ingredients, prepared with care in the traditional Italian fashion. Sauces are simmered for hours allowing for a true emersion of flavours. Pizza dough is prepared in advance and allowed two days to rise—this grants that the yeast will complete its full growth cycle, @soprasotto.vancouver
Sweet Jesus Ice Cream [South Burnaby] has opened doors at 4700 Kingsway, Burnaby, inside Metropolis in Metrotown. The Toronto based ice cream shop offers signature flavours like Birthday Cake, Bangin' Brownie, and Rocky Road Rage, along with shakes, frappés, hot chocolates, and pints. @sweetjesus [DailyHive]
Ta Bom Korean Restaurant [West End] has opened their 2nd location at 1536 Robson, known for the popular hot plate on which you can grill your favorite Korean BBQ meats and other fresh ingredients. [PickyDiners]
Tacofino Ocho [Mount Pleasant] is the Mexican-meets-West Coast restaurant's sixth location at 8 East 5th Ave, in a refurbished art-deco heritage building. The 2,800-square-foot space features a 100-seat dining room, horseshoe-shaped bar, and a takeout counter. Unique items by co-founder Jason Sussman and the restaurant's Michelin-starred chef Stefan Hartmann can be found on the menu, including fire-grilled, char-roasted meat and veggie plates, as well as new taco inventions such as grilled skirt steak, crispy cod, and squid.@TacofinoVAN [Straight]
Tasty Indian Bistro — [Yaletown] has opened doors at 1261 Hamilton Street. The story started with the late Avtar Saini first opened Tasty Sweets and Restaurant in winter of 1999 on Scott Road, Surrey. And his sons inherited his dream and opened the first Tasty Indian Bistro in Delta in 2011, featuring authentic Indian food, marble and stone artwork on every wall of the restaurant, and hand-carved stone tables, where they intend to have customers enjoy the food and feel that they are in the Taj Mahal. The new Yaletown location has brought the Indian fine dining to the posh neighborhood. @tastyindian
Ugly Dumpling [Commerical Drive] is located at 1590 Commercial Drive. Like most of the farm-to-table restaurants, the menu is based on the availability of local seasonal organic ingredients. Chef co-owner Darren Gee has a resume that includes Farmer's Apprentice, Kinome and Le Crocodile. The chef's unique style of cooking is based on Asian inspiration and the chef's classically trained experience. @uglydumpling.ca [Pickydiners]
Uno Gelato [Coal Harbour] Situated at Canada Place at the Mahony & Sons Coal Harbour location at Burrard Landing, the final gelato shop is now in service just weeks after the Kitsilano and Stamps Landing @unogelato.yvr
Yi Fang Fruit Tea [Riley Park] can be found at 4020 Cambie Street, and it's one of the new locations as part of their massive expansion in Metro Vancouver after their first shop on Robson street. Known for their fruit tea, as well as the fresh black sugar pearls made in-house and available in limited quantities at select times of the day, YiFang has locations around the globe, including China, South East Asia, and Australia, as well in London and New York. Here are the new locations that are open or opening soon in Metro Vancouver:
150-5555 Gilbert Road, Richmond
4020 Cambie Street, Vancouver
2112 West 41st Avenue, Vancouver
6049 Fraser Street, Vancouver
4329 Dawson Road, Burnaby
1601-4500 Kingsway, Burnaby
202B-4501 North Road, Burnaby
3-1161 The High Street, Coquitlam
109-10196 152nd Street, Surrey
@yifangtea.canada [Vancouer is Awesome]