Thanksgiving is just around the corner, and if the thought of shopping, cooking, entertaining, and then cleaning up afterward is putting a damper on your holiday spirit; check out our list of 8 restaurants for that homestyle Thanksgiving dinner, without all the work. So put the turkey baster down, remove that apron, and let these professionals do all the cooking.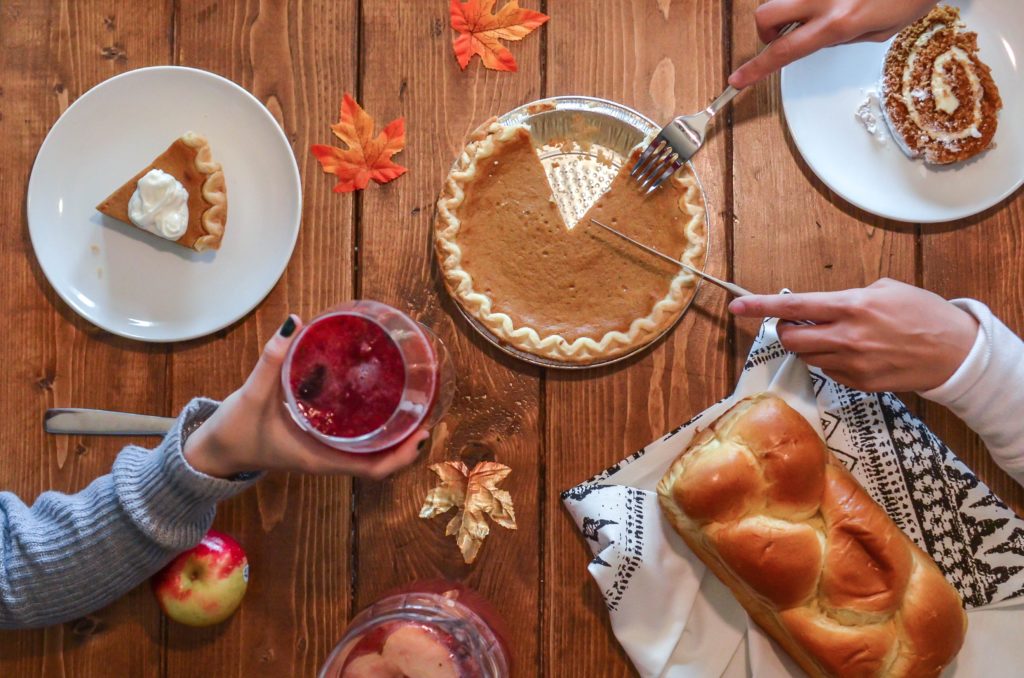 Notch8 Restaurant and Bar
On October 13th and 14th Notch8 is serving a three-course traditional turkey dinner for $69. The menu includes a roasted squash soup, a rotisserie buttermilk turkey with stuffing, potatoes, and vegetables on the side. Finished off with pumpkin cheesecake and ice cream.
And/or gather all your friends and family for their Thanksgiving Brunch Buffet on October 13th from 11:30 am-2:30 pm. It is $79 per person and includes a complimentary Caesar cocktail. Here, your brunch favourites have been given the fall treatment with pumpkin spiced pancakes, apple pie French toast, and ginger snap waffles. Pair it with prime rib and roast turkey from their carving station, and the eggs as you like them from their egg station.
Address: 900 W Georgia St, Vancouver BC
The Irish Heather
On Sunday, October 13th at 7 pm, this traditional Irish gastropub is offering a full Thanksgiving turkey dinner with all the trimmings and a pint of beer for only $21. This is their 11th year of offering a decent meal and beer, at a decent price. A steal of a deal and they can cater to any dietary restrictions with gluten-free, vegan, and vegetarian options.
Address: 210 Carrall Street, Vancouver, BC
River Rock Casino Resort
This Thanksgiving weekend River Rock is hosting a Thanksgiving-themed Buffet with various dinner and lunch sittings at $46.95 per person. Enjoy an all you can eat turkey dinner with whipped and roasted potatoes, herbed vegetables, butter peas, brown sugar carrots, and Pacific Waters crab with cocktail sauce and butter. Saturday, October 12th dinner starting at 4:30 pm. Sunday, October 13th lunch from 11:30-3 pm and dinner starting at 4 pm. Monday, October 14th and dinner at 5 pm.
Address: 8811 River Road, Richmond BC
Cibo Trattoria
From Friday, October 11th to Monday, October 14th in addition to Cibo's regular nightly menu, you can order their specialty Thanksgiving set menu at $50 per person. A three course Italian style Thanksgiving spread with spiced vegetables, pan roasted turkey, and an Italian pumpkin custard for dessert.
Address: 900 Seymour Street, Vancouver BC
Ancora Waterfront Dining
Ancora will be offering special Canadian and US Thanksgiving holidays menus on October 14th and November 22nd, respectively. Guests can enjoy a three-course menu featuring roasted yam and coconut soup, turkey roulade, and carrot cake for $59 per person. And for more indulgence, l pair each course with the perfect wine for $39 more.
Address: 1600 Howe Street, Vancouver BC
Water St. Cafe
This Thanksgiving weekend head down to Water St. Cafe for live music and a choose your own adventure Thanksgiving Feast. $45 allows you to choose your own appetizer, entree, and dessert from three choices, with vegetarian options available as well. Pick between creamy bisque or fresh salad, turkey or salmon, and homemade tiramisu or cannolis.
Address: 300 Water St, Vancouver BC
Honey Salt
From October 12th to the 14th Honey Salt is serving up a Thanksgiving Platter at $36.00. Enjoy free-range turkey breast, chorizo stuffing, roasted fall vegetables, whipped potato, cranberry jam, and gravy piled high.
Address: 39 Smithe St, Vancouver BC
Smoke's Poutinerie
And for those who are looking for a quick and easy dinner for one, Smoke's has brought back their popular Thanksgiving in a box, available now until October 14th. Roasted turkey, homemade savoury stuffing, baby green peas, and cranberry sauce; atop of Canada's most beloved fries, cheese, and gravy dish. And when you add a cranberry Canada Dry beverage to make it a combo, $1 from each order will be donated to "Friends of We Care" an organization that raises funds to send children with disabilities to fully accessible summer camps.
Address: 942 Granville St, Vancouver BC
featured image by Priscilla Du Preez