Kevin Lin is one of badass foodies that's always unapologetic for his high standards for gourmet dishes and great wines. A veteran of Vancouver's restaurant industry, Kevin has done a fair share of roles of chef, maitre'd, sommelier and restaurateur, his current projects include the newly opened Uncle's Snack Shop and the upcoming Saola. Kevin loves his steak and wine and he has kindly made the following recommendations if you are craving a super satisfying piece of steak.
Let's start with Kevin's most favourite. As the newest member of Top Table Group, the Yaletown steakhouse is also the winner of "Best Steakhouse – Gold" by Vancouver magazine.
Recommendation:
Snake Rivers Wagyu Striploin, California cut ($19/oz)
Also called the tri-tip cut, the California cut is increasingly popular in the gourmet world. And American Wagyu produced by Snake Rivers Farms has the blend of the best beefs of different worlds, offering the perfect balance of flavour and texture.
Minami might be known as Miku's sister restaurant and its famous Aburi Sushi, but it also offers a fabulous menu of elevated, Japanese-inspired fine-dining dishes.
Recommendation:
Aburi Ribeye AAA Sterling Silver 10oz ($49)
Served with roasted vegetables, wasabi chimichurri, suntory whisky peppercorn veal jus, and shallot crisps, this premium steak preparation proves that the extra"Aburi" charring just works as beautifully on a steak as on their signature sockeye sushi.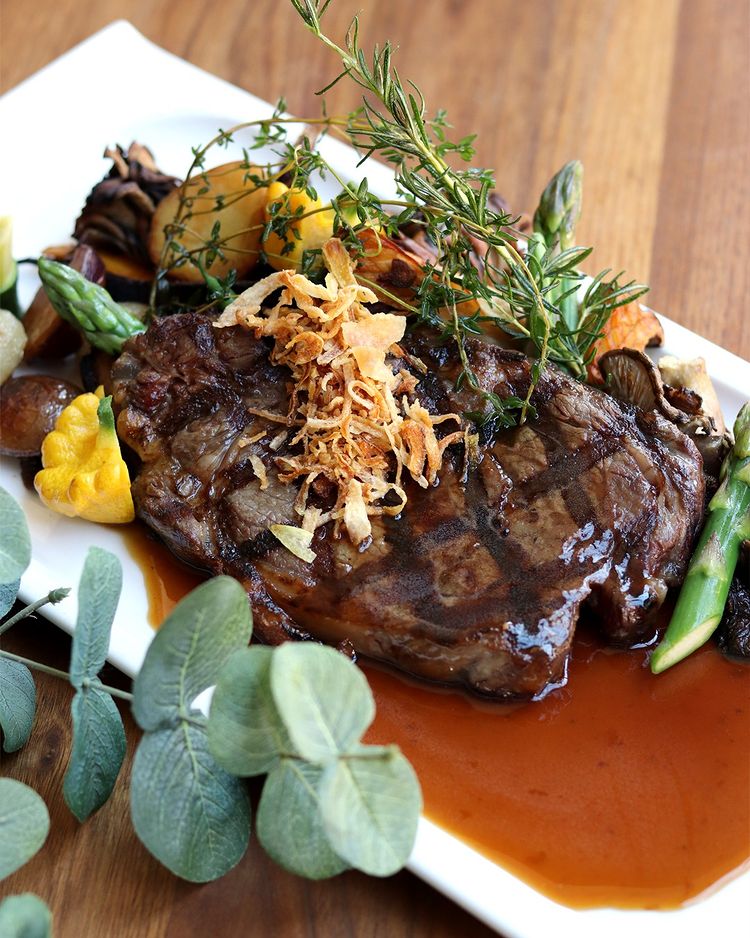 The Roof at Black & Blue
The only roof-top destination for premium steaks in Downtown Vancouver has stayed on top of the fine-dining scene, attracting all the chic carnivores.
Recommendation:
Josper Grilled 42oz Prime Tomahawk ($100)
This is a showstopper by its sheer size and preparation effort. It is also available at its sister restaurant, Glowbal Restaurant.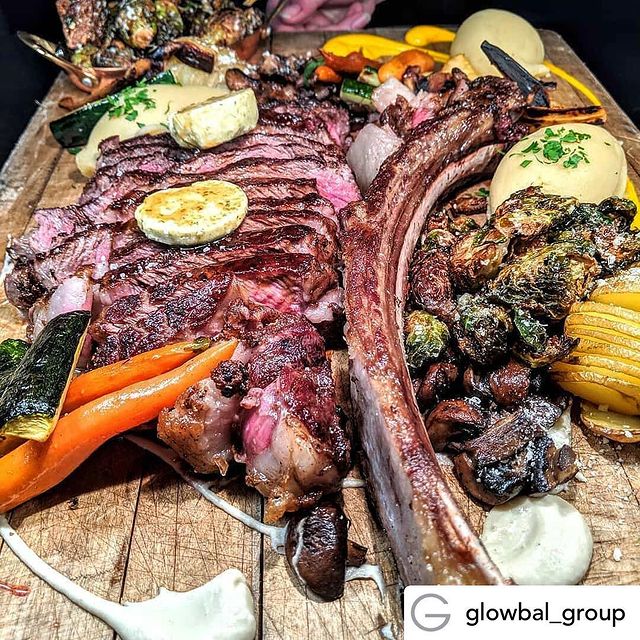 The residence steakhouse at the luxury Parq Vancouver has definitely made a mark at the city's fine dining scene since the beginning of 2018.
Recommendation:
The Porterhouse 28oz USDA Prime($105)
Can decide to get the striploin for bigger flavour and the tenderloin for the buttery texture? Why not just order the Porterhouse to enjoy the best of both?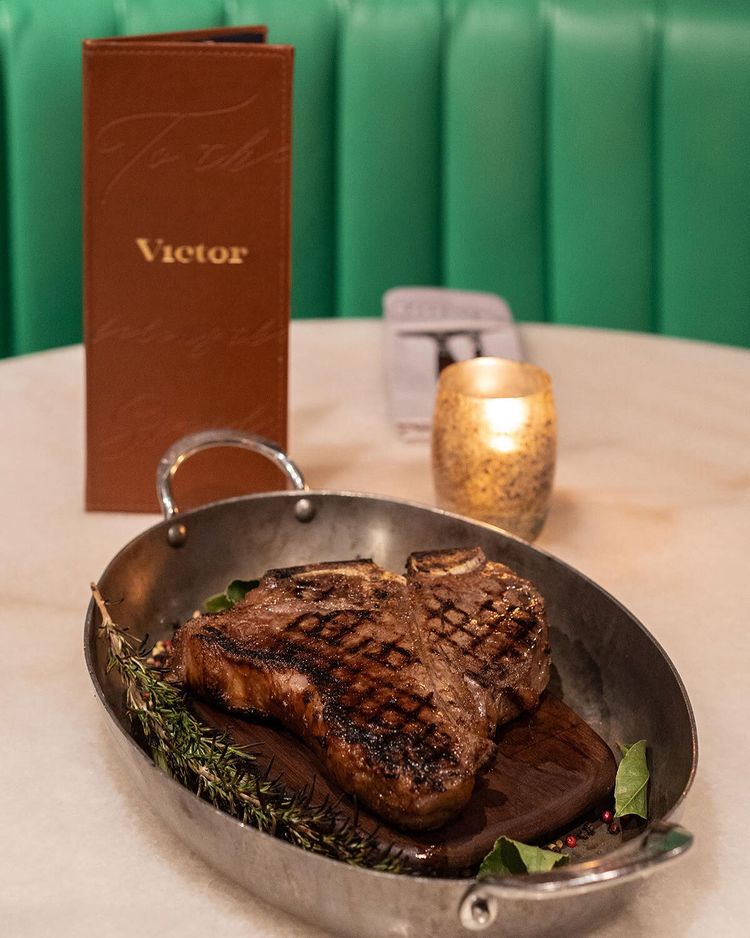 A top-3 steakhouse in Vancouver by the food critics since it opened its doors in 1955.
Recommendation:
Beef Wellington ($63.95)
It might be the most fun way to enjoy filet of beef tenderloin. The beef is prepared with foie gras and oyster mushroom duxelle, and baked in puff pastry. This elaborate British dish has been the anchor of the downtown steakhouse for many years.
A French bistro in the heart of Mount Pleasant that serves class French dishes in a casual but elegant setting.
Recommendation:
Steak Frites ($25)
Kevin prefers the regular hanger steak, or what they call the butcher's steak, over the beef tenderloin ($4 extra) for the better flavour. This is a classic dish, inexpensive but tasty and satisfying!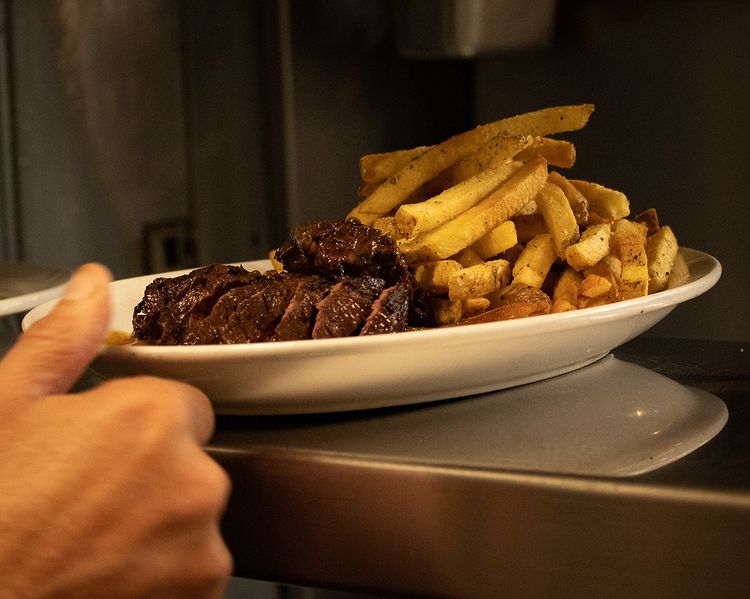 Nightingale is Chef David Hawksworth's informal restaurant/bar but with a breathtaking interior design, serving modern Canadian fare & classic cocktails.
Recommendation:
Grilled Flat Iron ($36)
Aka the Butler's steak, it comes with leek vinaigrette, hasselback potatoes, and black pepper crème fraîche. Flat Iron has a great amount of marbling that gives a lot of favours, although it is a slightly tougher cut.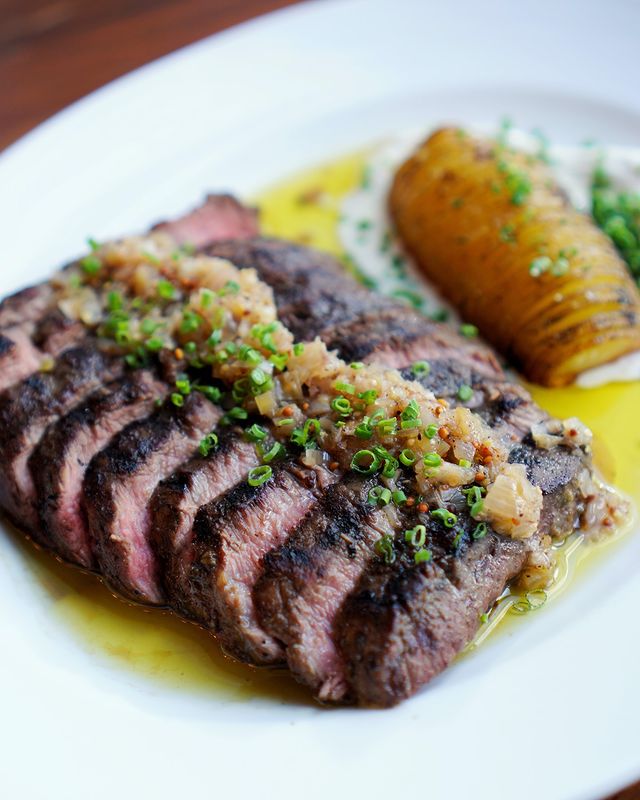 Everybody in Vancouver knows The Keg! The Canadian-owned steakhouse chain now has 160 locations over North America. If you have a guest visiting from out-of-town asking for a great Canadian steak, take him/her to the Keg!
Recommendations:
Prime Rib 10 oz ($30)
This is many folks' favourite Sunday dinner, juicy, tender, flavourful, and reminding of how lucky to live in Canada and to enjoy premium Canadian beef! And don't miss out on their Easter Prime Rib take out specials!