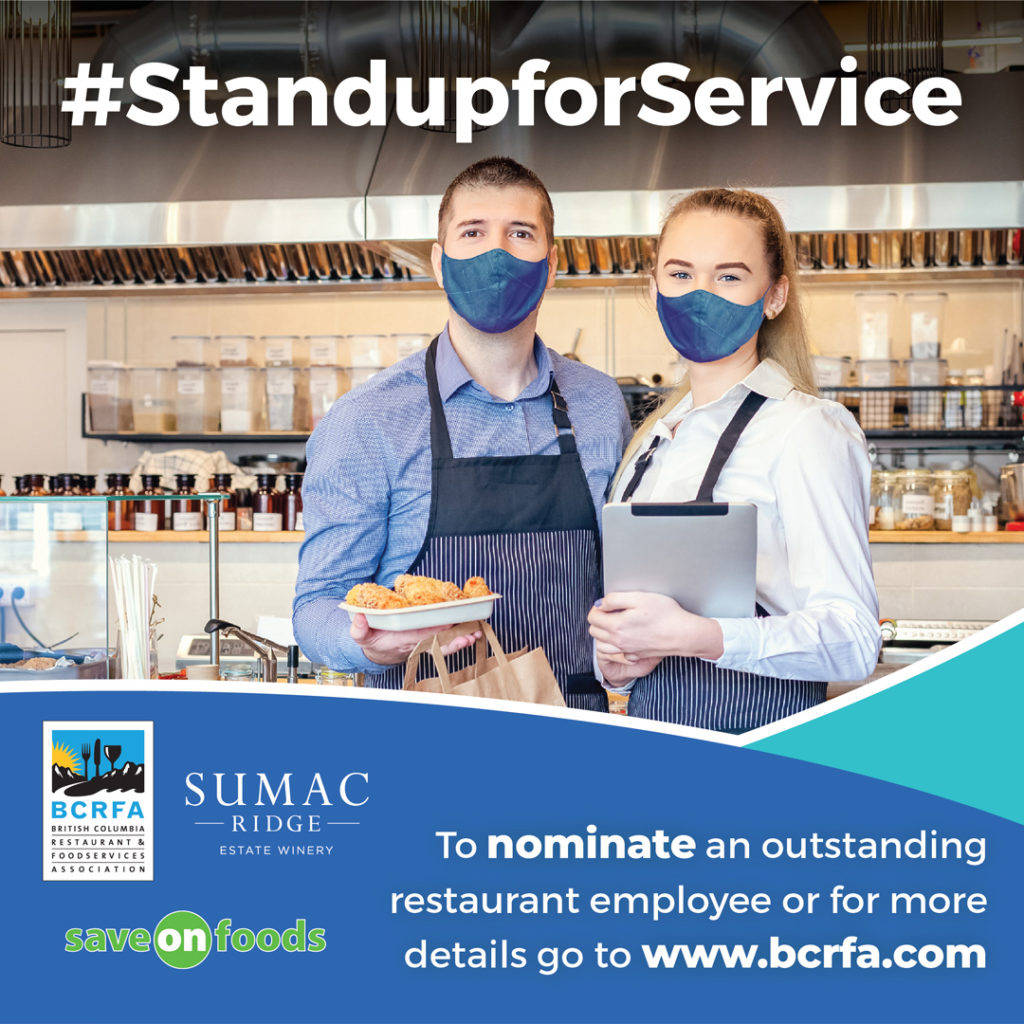 #StandUpForService is a collaborative effort by the BC Restaurant and Foodservice Association (BCRFA), Sumac Ridge Estate Winery, Save-On-Foods, and Town Hall Brands.  
Over the months of March, April, and May, an online form is open the public to share their stories of great hospitality by nominating an outstanding worker and dining experience to nominate at the BCRFA website: bcrfa.com
As the pandemic has cause the struggles in the restaurant industry, sales and movement are down and many don't feel comfortable to dine out. Several local establishments have closed their doors or are on the verge of breaking, and it is hard on the industry's morale. Despite this challenging time, the industry has reacted and continues to offer great service and a pleasant experience to those to do come in for dine-in or take-out.
In this 12-week program, outstanding restaurant workers from across the province will be recognized for their top-notch service at BCRFA.com. Each week, an outstanding server (must be of legal drinking age) will be selected to receive a $100 Save-On-Foods gift card and a gift from Sumac Ridge Estate Winery.
At the end of the 12-week promotion, four individuals will be chosen to each receive a special Sumac Ridge Estate Winery gift pack and a $250 gift card to Save-On-Foods. These superstar restaurant workers will also be highlighted on the BCRFA and BC Tastes Better Instagram pages (@BCRFA and @BCTastesBetter)
This is a great opportunity for everyone to build positive momentum and show encouragement for restaurant workers who go above and beyond to make diners feel safe and comfortable.
The online nomination for is here: https://www.bcrfa.com/