Deprecated
: Function create_function() is deprecated in
/home/xwave929/public_html/yvr/vancouver/wp-content/plugins/wp-spamshield/wp-spamshield.php
on line
2033
We have a remarkable Vietnamese food scene in Vancouver, thanks to a little over 30,000 locals with Vietnamese heritage in the Lower Mainland. Not to mention the ethnic community referred as Little Saigon that stretches along Kingsway, between Main and Nanaimo Street, as well as an expansion down on Victoria Drive from Kingsway.
We have recently asked for Vietnamese food recommendations from a young, passionate foodie in city. Having moved to Vancouver not too long ago before living in Ottawa and Vietnam, Louis Dinh runs a lifestyle blog on Instagram, and is constantly on top of the trends in both fashion and food.
"Being authentic isn't necessarily is the absolute key to deliciousness for everyone, but food with a story on its origin or ingredients does elevate the overall eating experience," Louis was super excited about sharing his list with us.
Note: the pictures are taken during the in-door dining restriction, all of these dishes are available for take-out and taste equally fantastic.

Bun Bo Hue
(bún bò huế )
$12
Cafe Xu Hue
2226 Kingsway, Vancouver, BC V5N 2T7
(604) 454-9940
Takeout: pick-up only / $cash only
"This is as authentic as it gets. The owner is from Hue in Vietnam where the soup was created, " Louis emphasizes the origin and the traditional flavours, "it is a spicy soup typically served with pork hock and thick rice vermicelli".
"Almost every single Vietnamese restaurant in the city serves this spicy rice vermicelli soup. However, not many of them would put in all the traditional ingredients, which makes this place pretty special. " Louis added.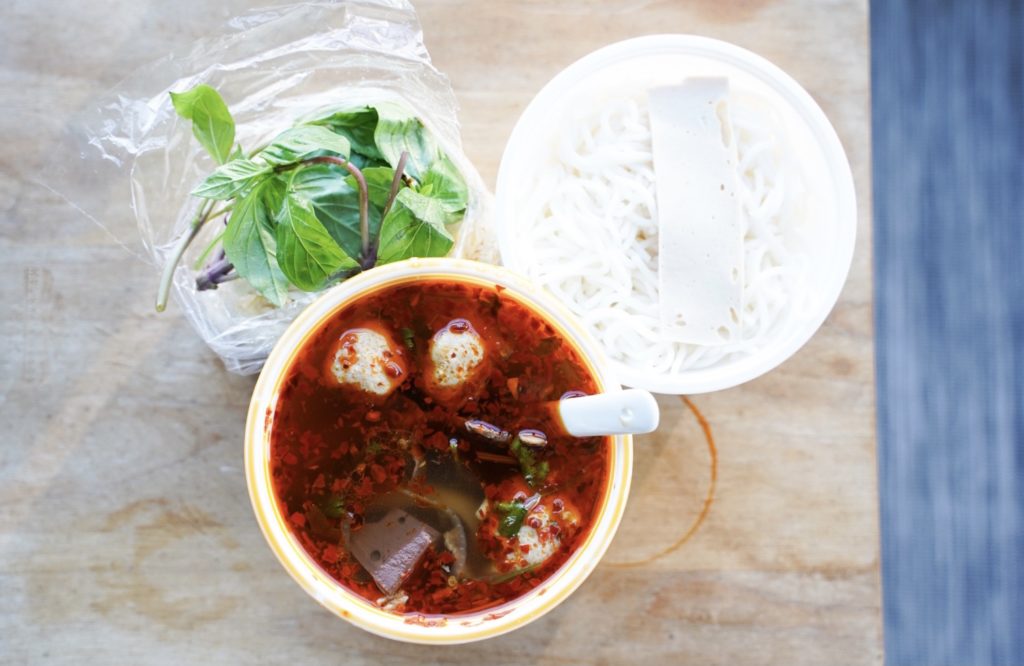 Steamed Pork and Shrimp Tapioca Dumplings
( bánh bột lọc Trần )
$12
5002 Victoria Dr, Vancouver, BC V5P 3T8
(604) 566-9283
"This is a dish from Central Vietnam, and it is eaten with a special spicy fish source".
Louis is obviously, very fond of the fish sauce, which enhances the dumpling that has great flavours and texture.
"The dumpling has a filling blended with boil pork , mushrooms, and shrimp, all marinated with special sauce. It is flavourful but also has a lovely chewy texture."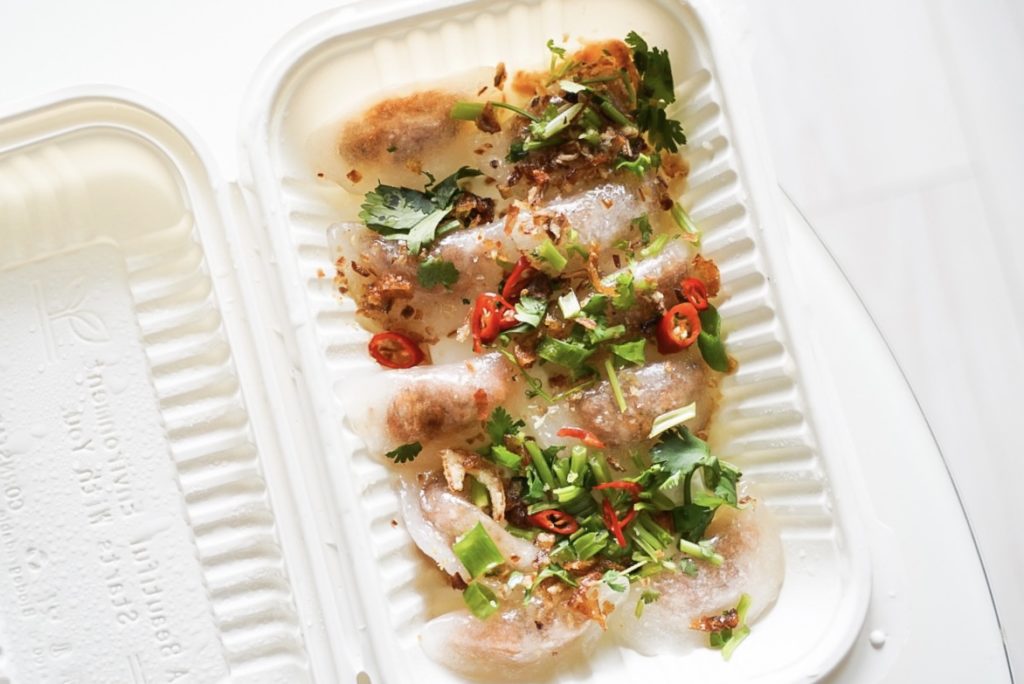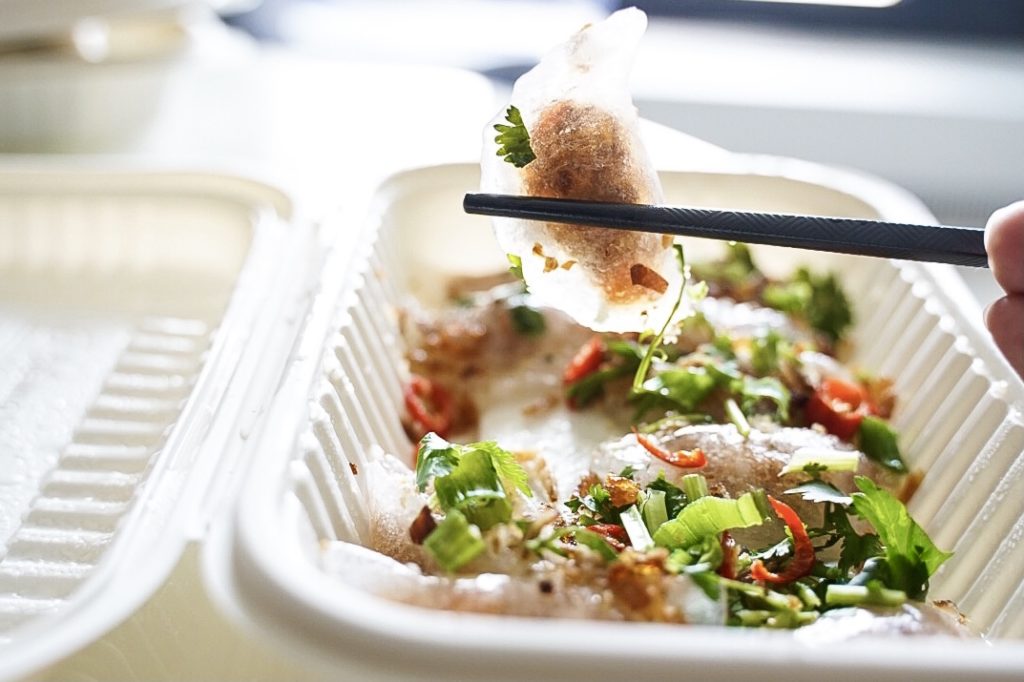 Beef Pho (phở bò)
$16
Bonjour Vietnam Bistro
3944 Fraser St, Vancouver, BC V5V 4E4
(604) 879-3633
Louis's first choice is actually Pho Duy on Kingsway and Victory Drive but unfortunately they appear to be closed when we drove by. And no one was answering the phone either. But we are happy about his 2nd choice – the Beef Pho from Bonjour Vietnam Bistro is rather refined. The broth is super clear and the flavours are very natural, taking the most famous Vietnamese dish to the next level.
The restaurant is also known for its impressive floral elements and a secret tropical garden theme that elevate the dining experience. We are also glad to see their extended the garden to their outdoor patio just in time for the gorgeous outdoor weather.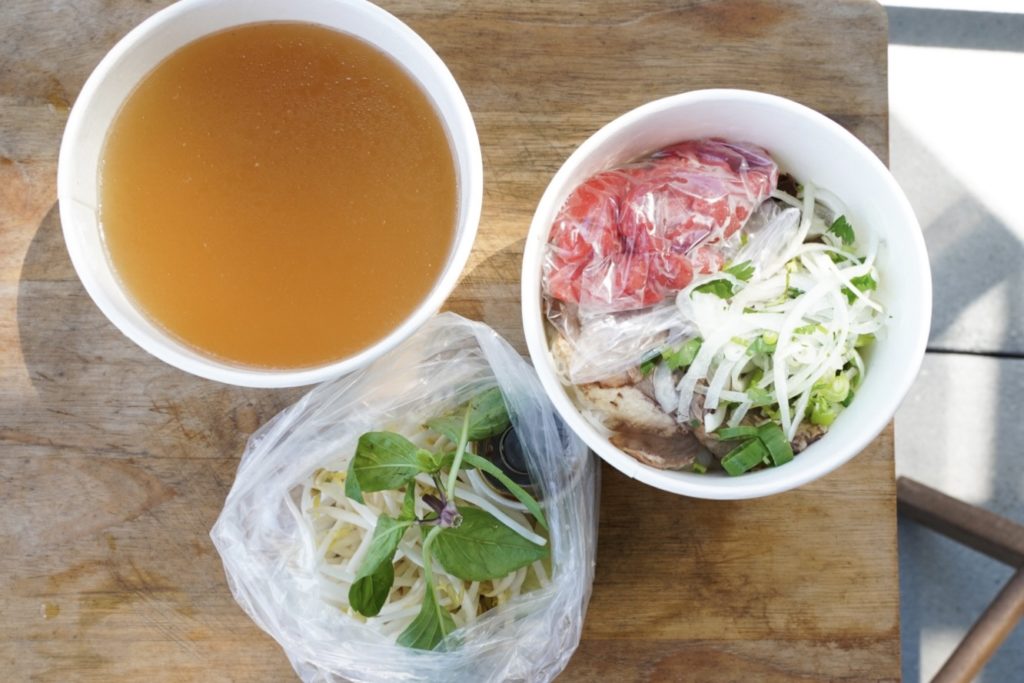 Signature Vermicelli Bowl
Bún Thịt Nướng Chả Giò Tôm
$18
Anh and Chi
3388 Main St, Vancouver, BC V5V 3M7
(604) 878-8883 or anhandchi.com
Takeout: foodora.ca, ubereats.com, doordash.com

"This is an exquisite summer dish with grilled marinated meat, grill shrimp and spring rolls . "
Louis sounded excited as if he were about to sit on the large patio here to enjoy the food and the sun.
"The grilled meat (beef, chicken or pork) here is really good; however the grill shrimp and the spring roll is the star of the dish. The spring roll is very crispy, tasty and not oily at all . The shrmp smells amazing and tastes super fresh."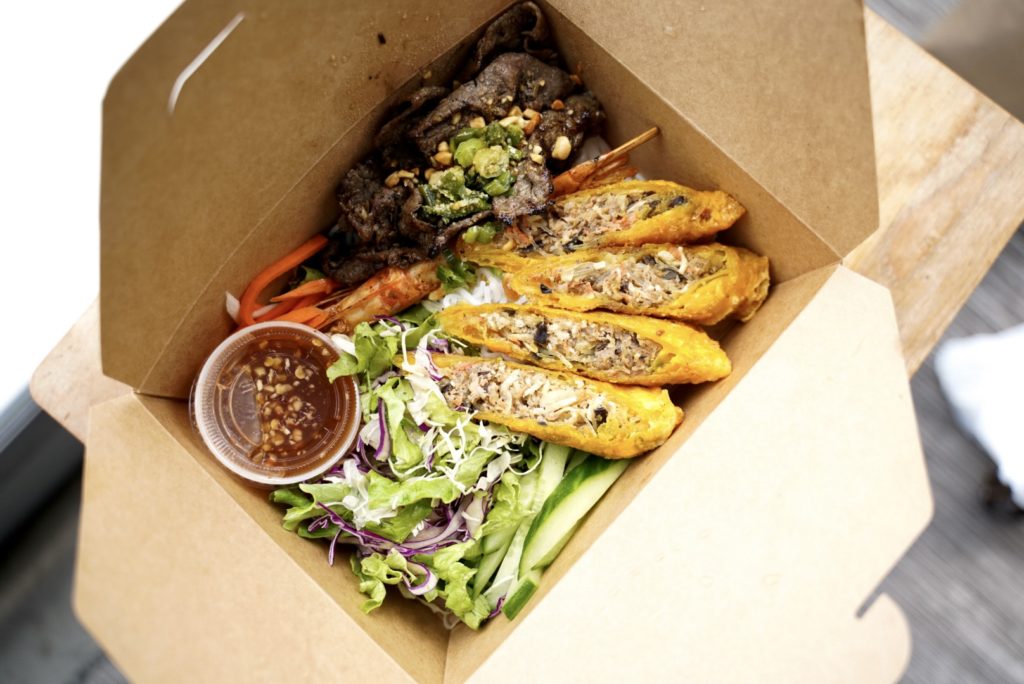 Grill fish cake – fresh water crab rice noodles
( bún riêu cua chả cá )
$12
Dang Anh
5186 Victoria Dr, Vancouver, BC V5P 3V2
(778) 379-7977
Takeout: ubereats.com
"A great flavour combination of the special fresh water crab & tomato soup and some deep fried fish cake . You can taste the sweetness in the bone broth, that goes amazingly well with the acidity of tomato. Fried fish cake is juicy inside but crispy outside."
Louis's mouthwatering words definitely gets our attention. But please note that they close on Wednesdays!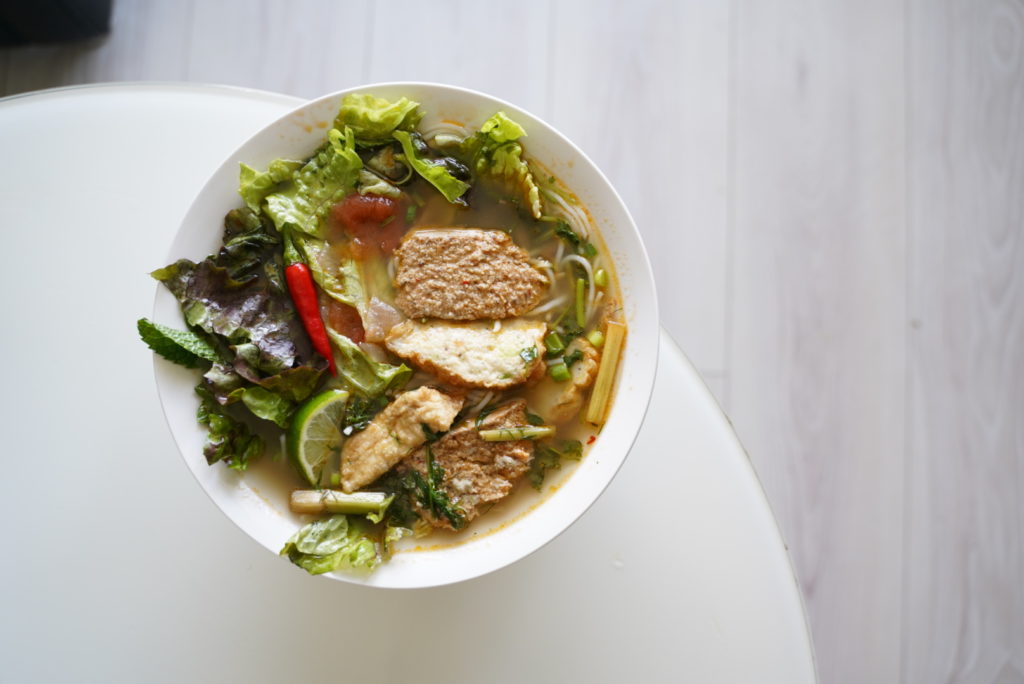 Grilled pork belly & pork meat balls on Vermicelli
( bún chả Hà Nội )
$16
Mr. Red Cafe
2680 W Broadway, Vancouver, BC V6K 2G3
(604) 559-6878 or mrredcafe.ca
Takeout: doordash.com, ubereats.com
2131 E Hastings St, Vancouver, BC V5L 1V2
(604) 710-9515 or mrredcafe.ca
Takeout: doordash.com, ubereats.com
"The marinade recipe tastes quite authentic here. And the grill pork belly and pork meatballs get soaked in warm fish sauce, perfectly complemented by fresh leafy vegetables and vermicelli," Louis loves this dish as another ideal dinner on a warm day.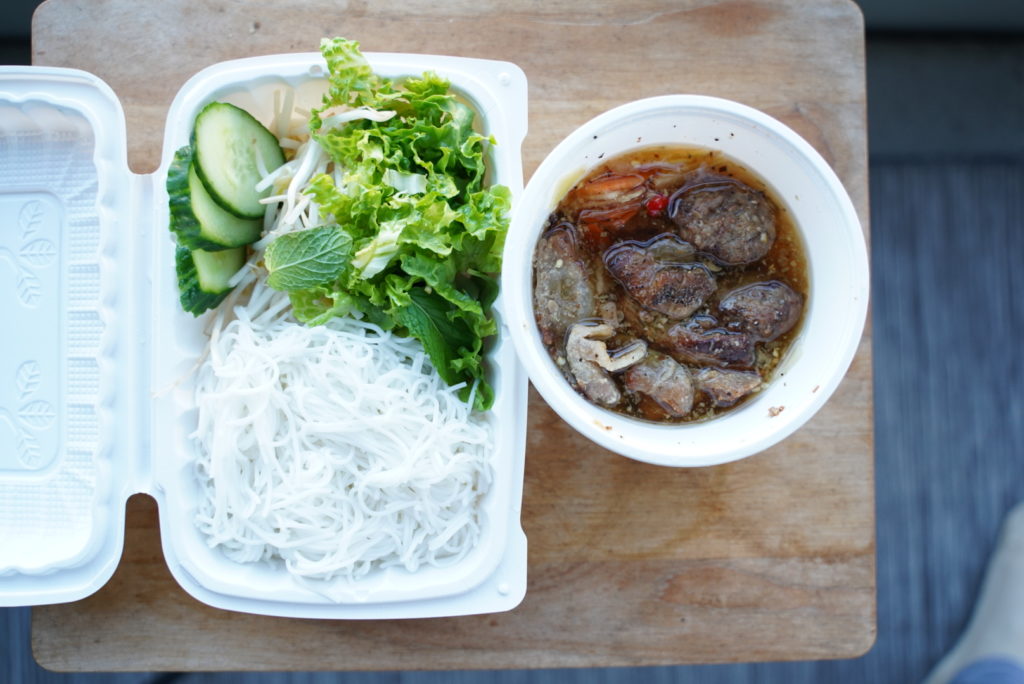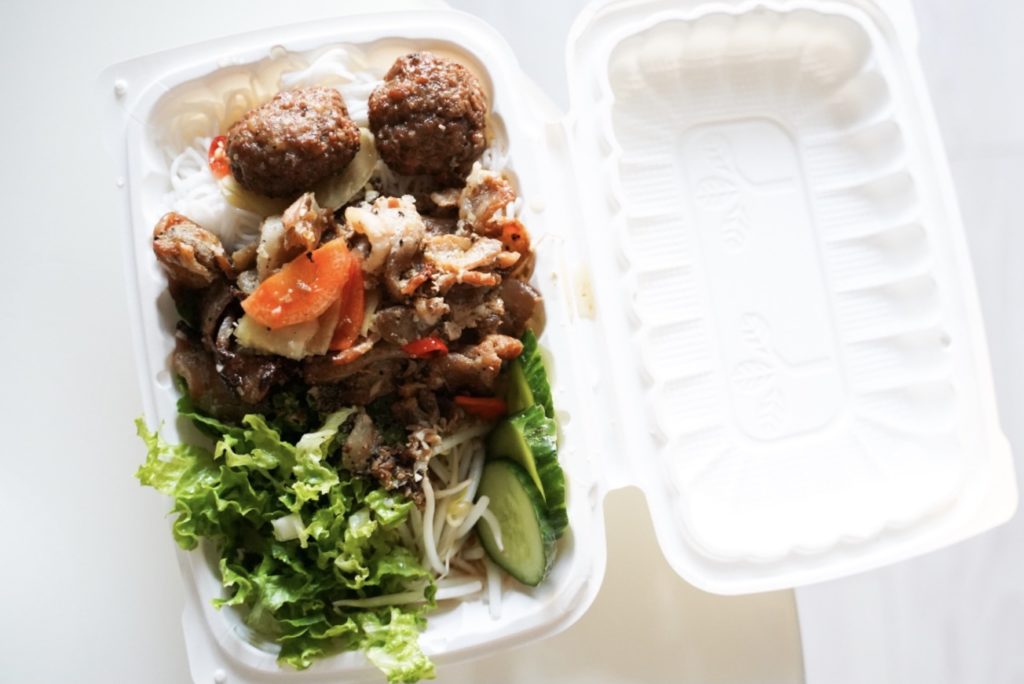 Dry Egg Noodle Soup
(Hủ Tiếu Mì Nước | Mì Khô )
$14
Green Lemongrass
1086 Kingsway, Vancouver, BC V5V 3C6
(604) 875-6638 or greenlemongrass.ca
Takeout: doordash.com, ubereats.com, skipthedishes.com
"From the south of Vietnam, this dish is sold all over the street of Saigon. With lots of ingredients and Vietnamese soy sauce mixed together with dry egg noodles."
This dish has brought back Louis's memories of enjoying his travel to Saigon as he is from Northern Vietnam,
"the dish also comes with a bowl of soup on the side, filled pork bones and radish."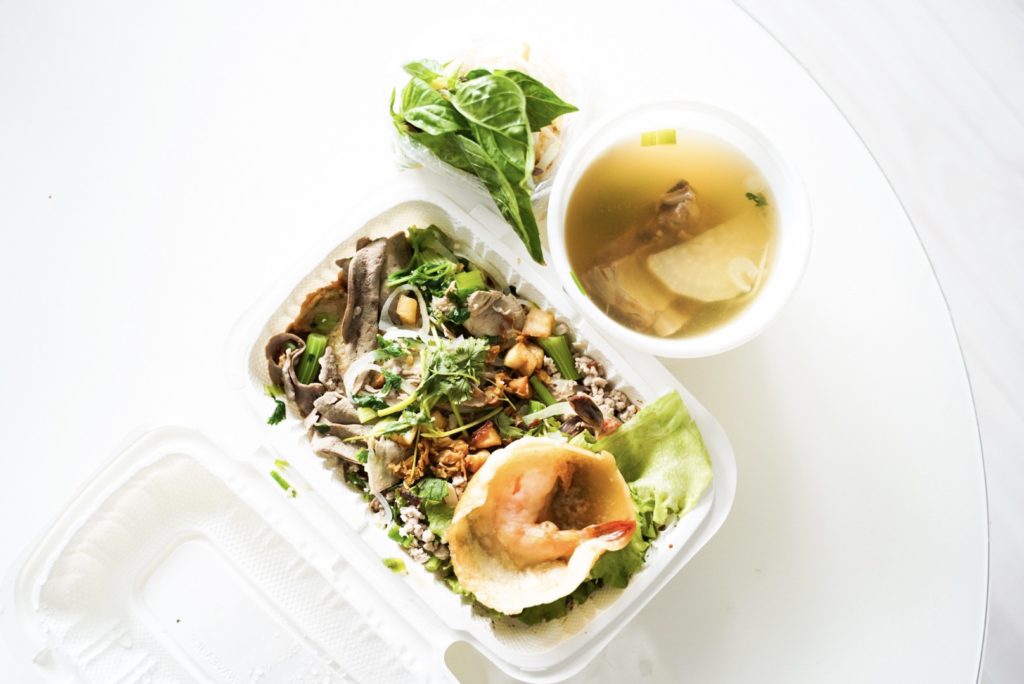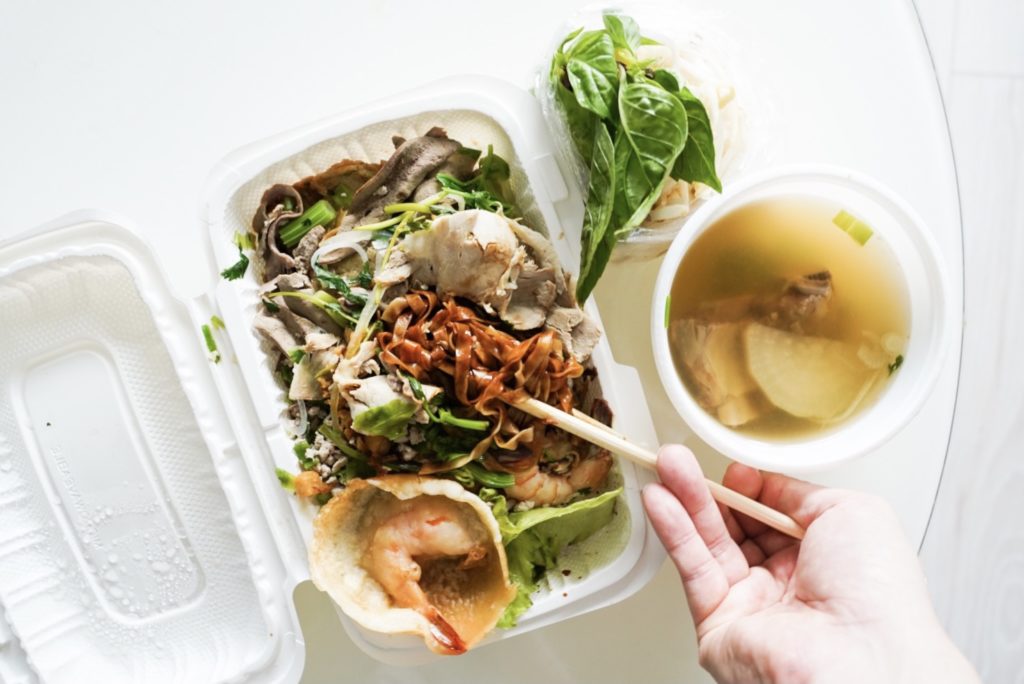 Salted egg yolk cake
( bông Lan trứng muối )
$11 (Large)
Tina Cake & Desserts
128-888 Kingsway, Vancouver, BC V5V 3C3
(604) 428-5181
Takeout: skipthedishes.com
"This desert with savoury elements is a newly innovative item, featuring a fluffy sponge cake topped with salted Vietnamese pork floss and salted duck egg yolk ."
Louis isn't big dessert fan but he definitely digs this cake like most of the local Vietnamese foodies,
"the lemon cream frosting on top definitely binds everything together and the final product is amazing. "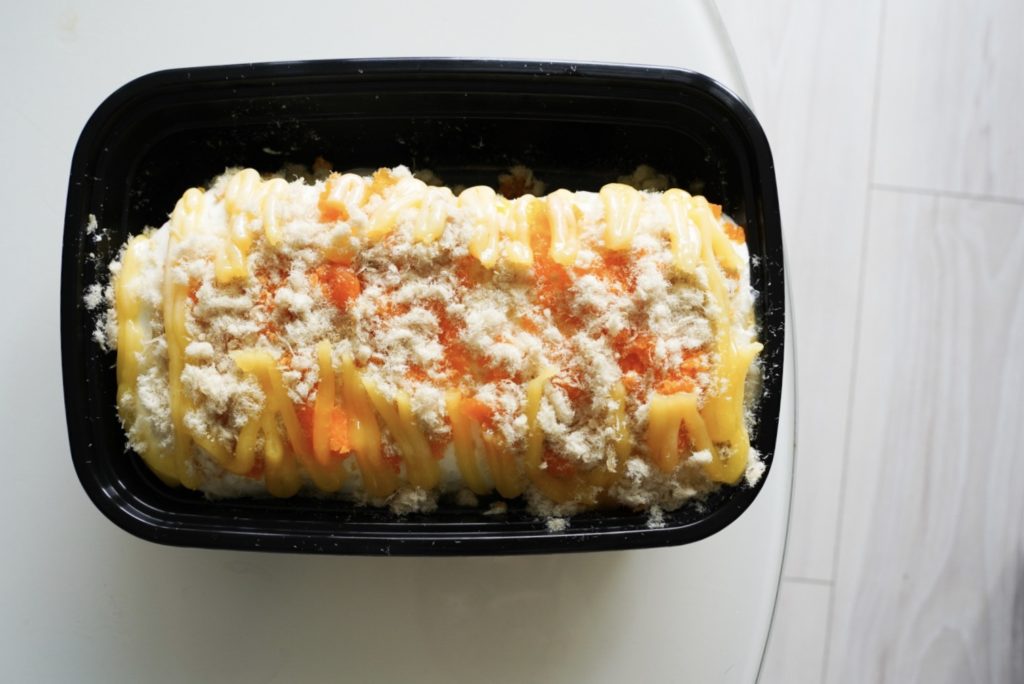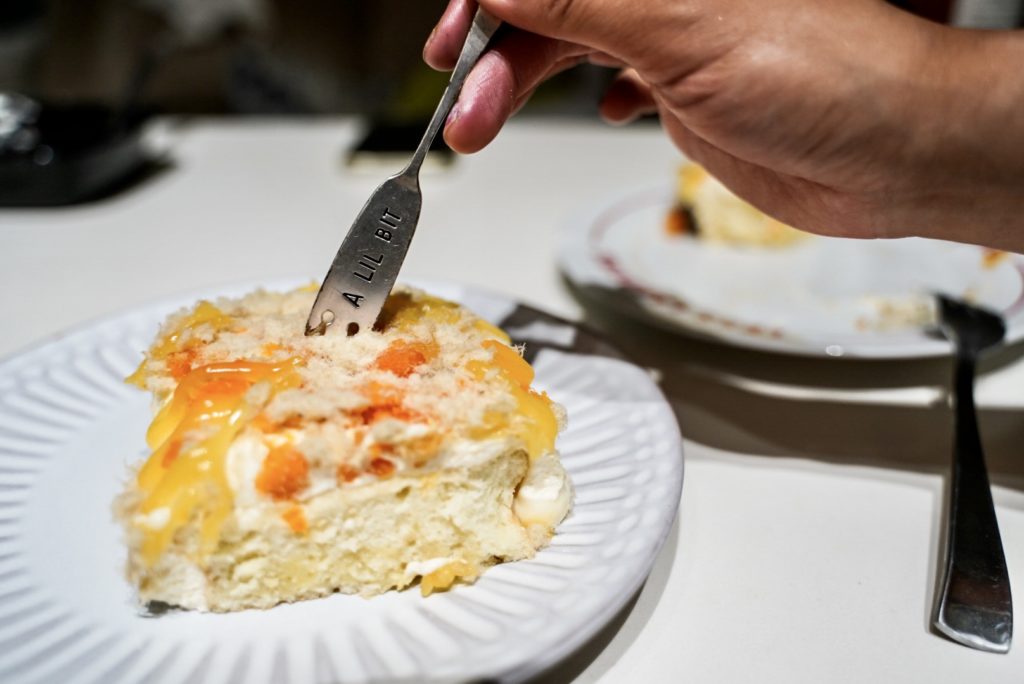 Bonus:
We ask for recommendations for 8 Vietnamese dishes from Louis. However, we tried a couple of times to reach Dang Anh but wasn't able to so Louis also recommended the most popular Banh Mi shop in Vancouver.
Banh Mi
$6
Banh Mi Saigon
5397 Victoria Dr, Vancouver, BC V5P 3V6
(778) 379-9992 or banhmisaigon.ca
Such a phenomenon to see people lining up on both sides of the store entrance here – one for waiting to order, and one for waiting to pick up the food. The system works perfectly to keep the line moving at an incredible pace. Through the glass you can see hundreds of freshly made baguettes are filling up the sandwich making counter. A few ladies in their uniforms and safety masks are busy making and wrapping up sandwich by sandwich.
The most popular are No.1 – the House Special with Vietnamese ham and pate and No.9 – Lemongrass pork. The flavours are fantastic but the $6 price tag is even more so!