There are many good reasons why you don't want to cook for Thanksgiving: no stress of shopping, no cooking, no cleaning, and spending more quality time with family. This Thanksgiving long weekend, October 9 – October 12, Vancouver chefs are busting out their best holiday dishes, traditional or innovative, and available for dine-in or take-out.
Here are the options for you to discover the best Thanksgiving dinners.
Hawksworth
The award-winning restaurants offer a delicious turkey roulade for the holiday. It is expertly prepared from succulent turkey meat rolled with dark meat, and served with a sumptuous array of seasonal sides, including traditional pork stuffing, roasted vegetables, buttered pomme purée, house-made cheddar biscuits as well as pan gravy and spiced cranberry sauce. Begin with the earthy fall flavours of kale, squash and quinoa salad and finish with a classic dessert: your choice of a pumpkin pie with Chantilly cream or pecan pie. The three-course turkey dinner is priced at $47.50 per person, plus taxes.
Dine-in
Join us in our beautiful and spacious dining room for a memorable Thanksgiving dinner feature offered at $47.50 per guest, for the three-course menu alongside our regular A La Carte menu. Thanksgiving dinner feature will be available on October 10, 11, and 12.
Call 604.673.7000 or book online to make a reservation today.
To-Go
To-Go Thanksgiving dinners are designed for parties of six ($285 per package, plus taxes) and include whole pies and turkey roulades with all the sides and starter salad, offered in easy and convenient recyclable packaging.
Call Natalie at 604.605.3325 ext. 107 or order online by October 7th at 5 PM. Pick-up dates at Hawksworth Restaurant on October 10, 11, or 12.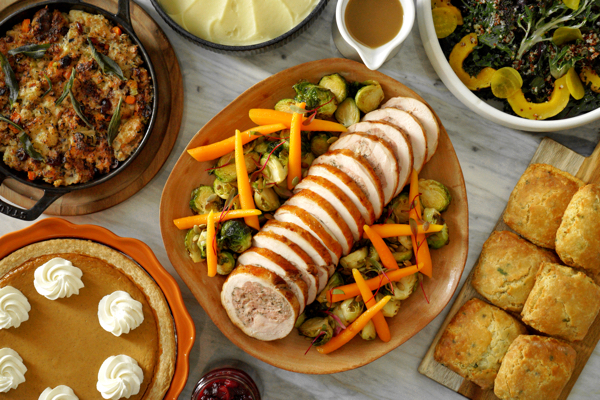 Juke Fried Chicken
* Order online before Tuesday, October 6, and pick up between Friday, October 9 – Sunday, October 11
Juke Fried Chicken's crowd-favourite Turducken Feast is returning to the menu exclusively for Thanksgiving. For $159 plus tax, the feast feeds four hungry adults and includes a full turducken — a three-in-one showstopper of a centrepiece that features roasted turkey, duck, and chicken — an array of hearty, gluten-free sides, as well as detailed written and video instructions from Juke Chef and Co-Owner Bryan Satterford.
The sides include Scalloped Potatoes, Brussels Sprouts with Bacon Jam, Roasted Squash with Carrots, and Pumpkin-seed Dukkah, Jalapeño Cornbread with Whipped Schmaltz, Honey and Thyme, Cranberry Sauce, Turkey Gravy.
Orders can be placed online at www.jukefriedchicken.com/thanksgiving-turkducken
Belgard Kitchen
Thanksgiving Meal Kit for Two: $65.00
The menu:
Turkey 2 Ways: stuffed and rolled breast, confit legs, gravy, cranberry sauce
Twice Baked Rosemary + Goat Cheese Bread Pudding
Mashed Potatoes
Roasted Root Vegetable Medley
Pumpkin Mousse + Caramelized White Chocolate
Order online here: https://www.belgardkitchen.com/mealkits/thanksgiving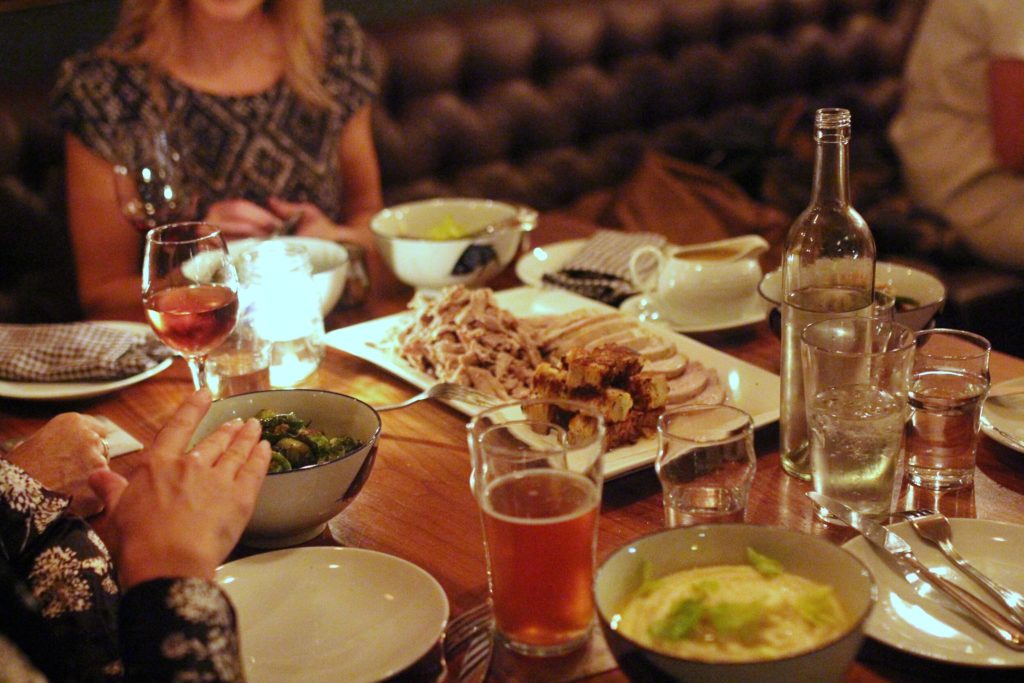 Beetbox
Thanksgiving Fried Chick-un Sandwich is Available for dine-in and pick up from Friday, October 9 to Monday, October 12
Exclusively for Thanksgiving weekend, Beetbox is offering a fried chick-un sandwich fit for the occasion. The sandwich is available for $9.50 and includes cranberry sauce, celery stuffing, Brussels slaw, and gravy vegan mayo.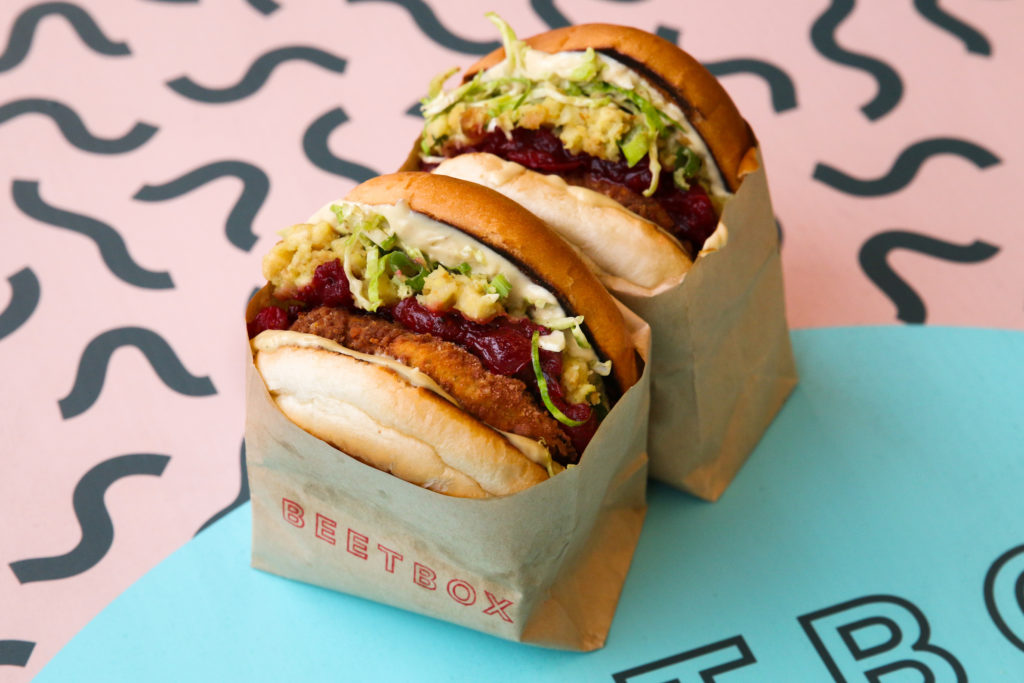 Feast
The Neighbourhood Table this year provides a ready-to-cook Thanksgiving dinner Package!
Prepared with care by Chef Johann Caner, this dinner comes in a range of sizes for families of 4 ($110), 8 ($210), and 12 people ($315) and features a delectable Beef Wellington with demi-glace, the signature gathered greens, roasted seasonal vegetables, and your choice of Pumpkin Cheesecake OR Apple Tarte Tatin.
Order between now and October 6th and pick it up at the restaurant on October 9th, 10th (from 10 am to 9 pm), and 11th (from 9 am to 11 am). Once you're home, just pop your packages in the oven and voilà!
To order, contact via email at info@feastdining.ca with your order size and the restaurant will send you a payment form.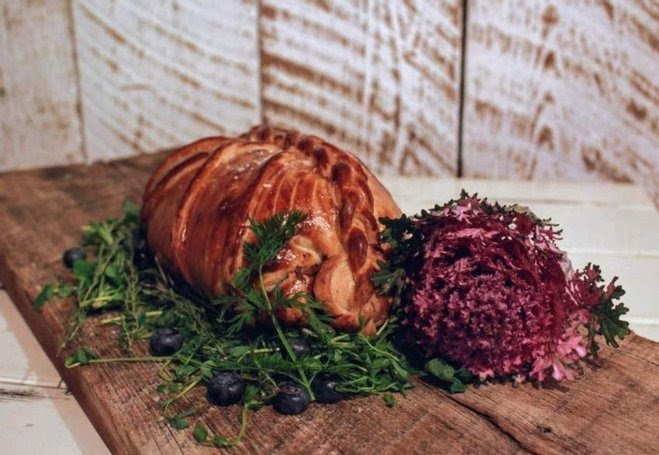 The full menu is also available for take-out and can be found on feastdining.ca. Reservations and take out orders can be made by calling (604) 922-1155.
Cibo Trattoria
Thanksgiving menu available from Saturday, October 10 to Monday, October 12
Cibo's Thanksgiving feast offers a trio of rustic-yet-elegant dishes available à la carte or as a three-course menu for $50 per person plus tax and gratuity, with a special feature 'Chai'n'rye' cocktail available at both Cibo and its next-door sister hotspot Uva Wine & Cocktail Bar.
The full menu includes an Antipasti of Tortellini in Brodo, then Roasted Turkey, and all the fixings including Roasted Turkey, Brown Butter Brussels sprouts, Cranberry Sauce, Whipped Crème Fraîche Potatoes, Cotechino, Lemon Stuffing, and Pumpkin Pie for dessert featuring Roasted Heirloom Pumpkin Mousse, spiced Chantilly, Butter Crumble.
Reservations can be made online at cibotrattoria.com.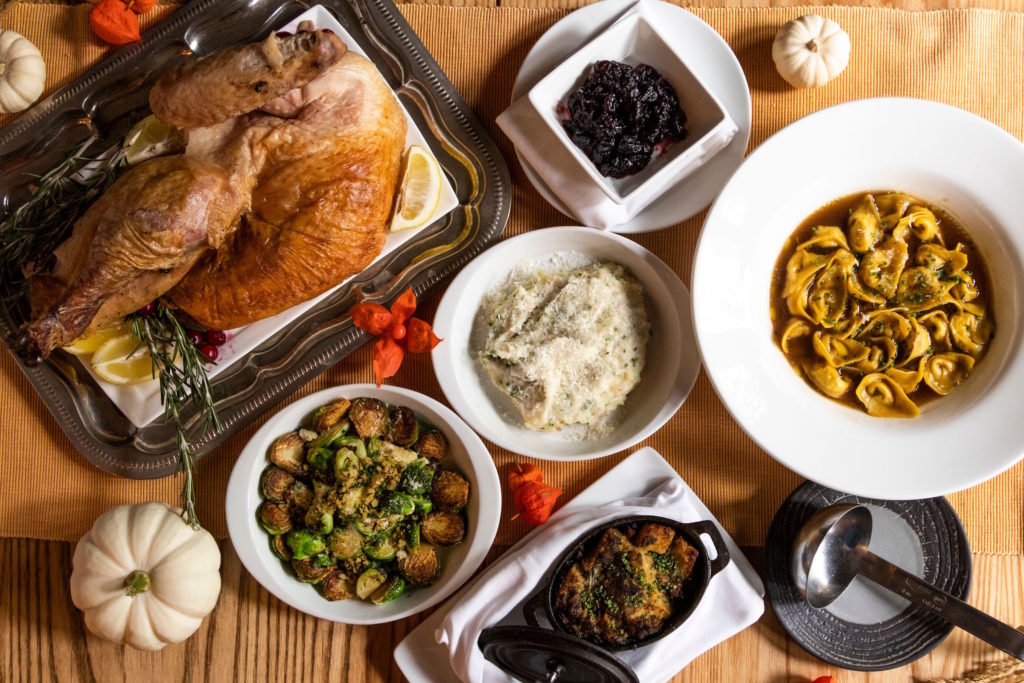 Torafuku
The award-winning Pan Asian eatery is offering 2 thanksgiving dinner packages on Oct 9 – Oct 11 – the Turkey set ($100) and the Pork Chop set ($110). Please visit the online store for more details or to order: https://www.torafuku.ca/shop.
Thanksgiving Turkey Set for Two
Appetizer I: Apple & Beets, pickled beets, honey crisp apple, candied walnut, house-made ricotta, peach vinaigrette
Appetizer II: Brussel Sprout Salad (2.0), cauliflower, broccoli, miso garlic dressing, sage, almond
Main: Turkey, turkey breast, green beans, roasted almond, leg confit on rice
Side: Thanksgiving stuffing, chicken liver, sourdough
Dessert: Pumpkin pie brulee, chantilly cream
Thanksgiving Pork chop Set for Two
Appetizer I: Apple & Beets, pickled beets, honey crisp apple, candied walnut, house-made ricotta, peach vinaigrette
Appetizer II: Brussel Sprout Salad (2.0), cauliflower, broccoli, miso garlic dressing, sage, almond
Main: Pork Chop, grilled broccolini, roasted almond grits, pancetta
Side: Thanksgiving stuffing, chicken liver, sourdough
Dessert: Pumpkin pie brulee, chantilly cream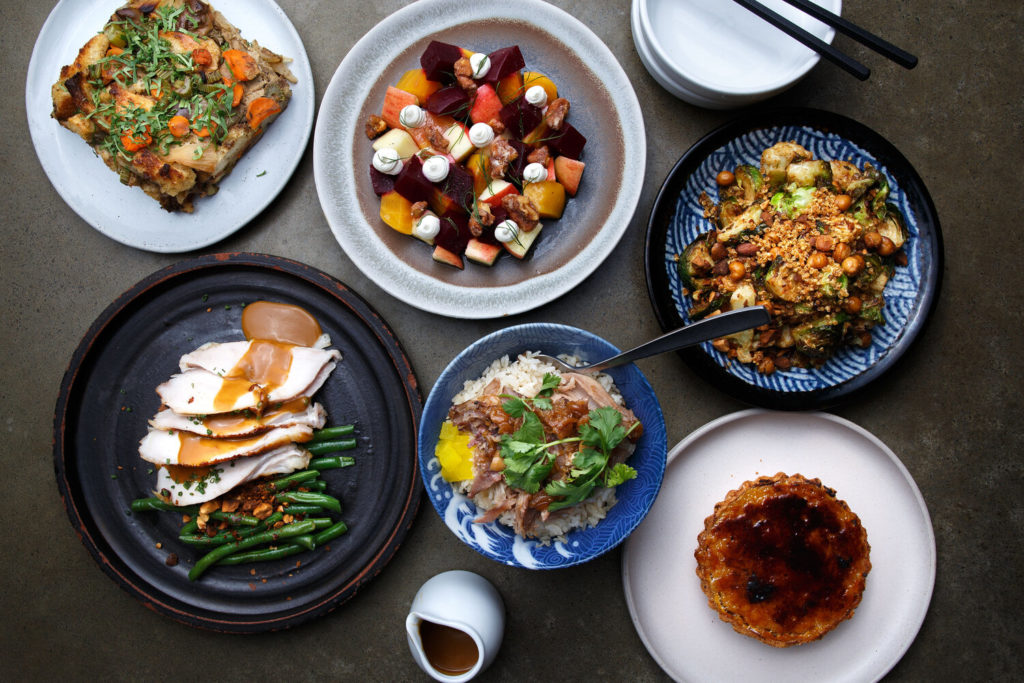 Boulevard
BLVD & SPH THANKSGIVING TURKEY TO-GO
Reheat and set the table for award-winning cuisine.

APPETIZER
Boulevard Corn Bread
Spiced Butternut Squash Soup, Apple Cider, Maple cream

MAIN COURSE
Brined and Sage Roasted Turkey Breast
Slow Roasted Legs
Madeira Scented Giblet Gravy
Traditional Cranberry Sauce
Brioche, Apples, Chestnut and Thyme Stuffing
Grass fed Butter Whipped Yukon Gold Potatoes
Roasted Brussels Sprouts, Honey Glazed Carrots

DESSERT
Pecan Apple Pie
Caramel Apple Compote, Roasted Pecan
Order via Tock here: https://www.exploretock.com/boulevard/experience/113677/boulevard-provisions-pick-up